If you read an article or news post on your Chrome and find it interesting to share with your friends or colleagues, you can easily share it with them with the built-in sharing option on Chrome.
I do link forward very often. If I feel a particular post or article benefits any of my friends, I forward the link using the share command button. Since I read a lot of articles online, it becomes quite mandatory to share them with my friend circle and talk about them.
When you tap the Share button, Android will automatically populate all the available apps or mediums. The communication apps like WhatsApp, Facebook, Linked In, Twitter, and whatever other app is installed on your Android phone will be displayed.
You can also select individual people in the sharing platform and hit on the Send button to instantly share the link.
However, if you want to send the link to different devices like a computer or iPad, you must choose to send it to the device from Chrome Android. However, you must also sing-in other devices with the same Google account.
Share a Website Link
A few websites support social sharing and provide sharing icons and links. However, if the sharing social bar is unavailable, you can always use the Share feature in Chrome Android. Here are the easy steps:
Launch the Chrome app on Android mobile.
Access the website link or page that you want to share.
Tap on More menu for options.
Select Share… from the list of options.

Choose the medium that you want to share.

Select the recipient and hit on Share or Send.
When you hit the share button, the website hyperlink will be copied automatically and pasted into the sharing app.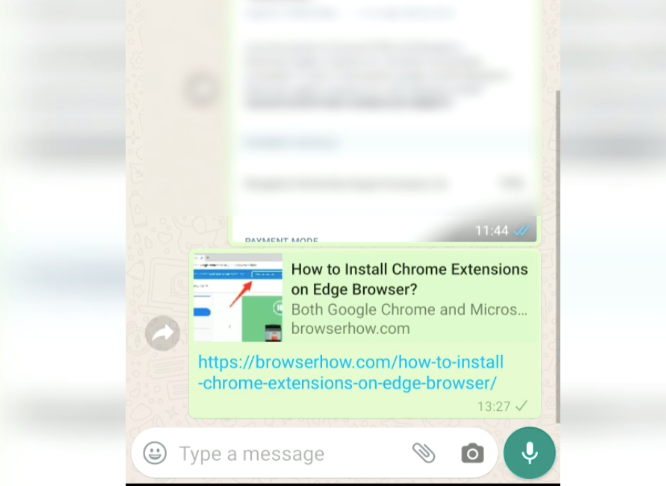 The message will be sent as a link within your sharing social app.
Video Demo
The video demo for sharing a website with friends on social media platforms like Twitter, Facebook, etc. from Chrome for Android.
How to Share Website Link from Chrome Android?
Bottom Line
The sharing options minimize the effort that goes into copy-pasting a link. Instead, we can quickly share on our favorite social media or communication app using the share option on the browser.
After discovering the share button, I frequently used it to share interesting and valuable articles with my friends and family. Especially with friends, exciting articles can be great fun and discussion topic.
Similarly, you can send links to connected devices from a Chrome app on Android. However, you might need the Google account signed-in on both devices.
Let us know how you find the external sharing feature on Chrome Android using any app.
Lastly, if you've any thoughts or feedback on How to Share Website Link from Chrome Android, then feel free to drop in below comment box. You can also report the outdated information.