The Opera Browser has always been innovative and unique with its features and services. Time and again, it has proved its efficiency with its mind-blowing updates and improved settings.
Even if bugs need fixing, the developers leave no stone unturned to carry out the task meticulously.
The Opera Browser gives a lot of liberty and independence regarding its homepage settings. For instance, you can change the default search engine to a new one or even add an engine of your own.
Similarly, you also have the option to change the homepage URL. Now, you are not bound to look at the same page repeatedly.
Suppose you're working on a particular site that you must open from the bookmarks or history every time you open Opera. With the custom homepage URL, you don't have to do that anymore.
Change Homepage URL
With the option to change your homepage URL, you get more freedom in deciding which page you want to see first when you open your browser. You can choose and set a search engine as a homepage. Here are the steps to change your startup page:
Launch the Opera app on your computer.
Click on Opera for the options menu.
Select the Settings menu from the list.
It will open the Settings page.
Scroll down to the On Startup section.
Switch to Open a specific page or set of pages radio button.

Click on the Add a new page option.
Enter the page address in the Site URL field, and click on button.

When you launch the Opera browser, the page or website will load as the home page you've set.
Similarly, you can add multiple webpage addresses, and each page will launch in a separate Opera tab.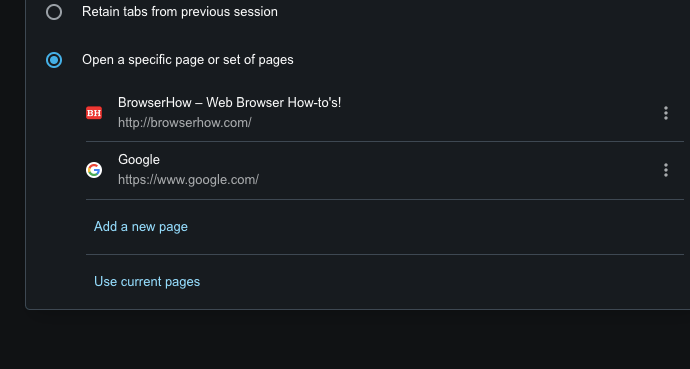 Bottom Line
The Opera Browser has improved itself over time by providing the best features to its users. Although it has always been a leading browser compared to the others, it has fallen short of its popularity for some time. However, it picked up its usual pace over the years and gained its popularity.
Opera has given a lot of options to customize everything and make it better according to users. Now, we can also change the homepage URL according to our convenience.
If you use a website more than others, it's smart to set it as your homepage. It will save a lot of time and boost your productivity.
All in all, it's a beneficial feature. What have you set as your homepage URL?
Lastly, if you've any thoughts or feedback on How to Change Homepage URL on Opera Computer, then feel free to drop in below comment box. You can also report the outdated information.