Google Chrome displays a critical error message that suggests that your device is hacked and you need to call specific numbers. These alerts are a tech scam set up to loot your money. You should try clearing browser history and caches, resetting the default browser settings, restarting the internet connection, deleting the bookmarks, etc. to remove scam alert.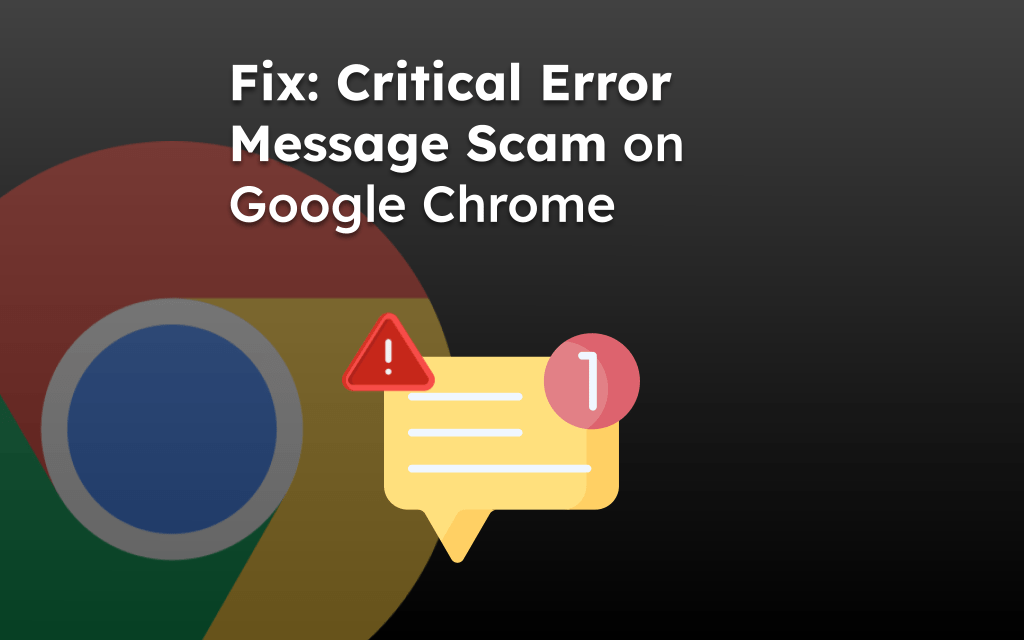 The Google Chrome Critical Error is a big scam running through the years, and it has had a significant outbreak recently. Most of these scam messages claim that your browser has been compromised and ask to call on the (FAKE!!) helpline number.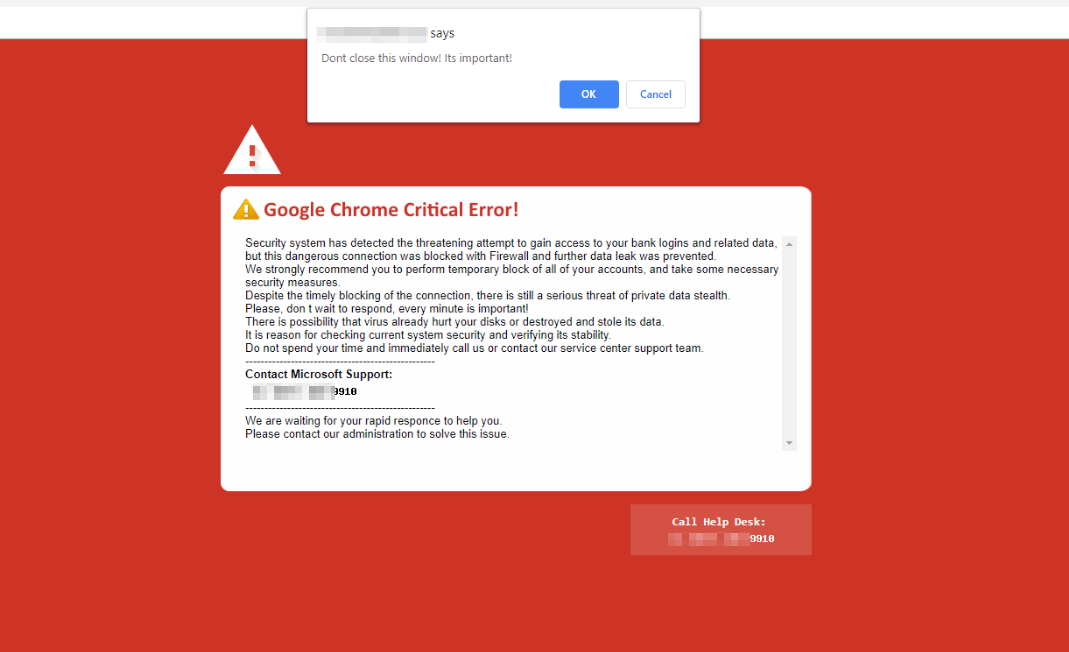 If you want to be safe, then DO NOT call these numbers. If you mistakenly called them, DO NOT share your personal or financial information. They may sound genuine while speaking, but it's a trap.
If you've ever encountered a Google Chrome Critical Error message or still get these errors, we are here to help. Here are the steps you need to take to wipe the Chrome Critical Error scam out completely.
On this page, you can find and jump to:
Restart and Disconnect the Internet
This is the first and most crucial step everyone should take to stop the Google Chrome critical error. Restarting your computer or laptop will kill any active connection between the spammer and your machine.
Click on the
to close the Chrome browser.
Click on the Wi-Fi and toggle the button to turn it OFF.
Restart your Computer system.
After restart, keep your internet disconnected until you verify the injected spam code is completely removed. Network disconnection also helps safeguard your saved Google Passwords and auto-fills.
Note: If the Chrome browser is not responding, consider killing its processes from Task Manager (on Windows) or Force Quit (on Mac).
Delete Bookmarks
If you mistakenly click on any link or script that leads to a Google Chrome Critical Error alert, the script is still stored in the browser. The possible location can be bookmarked. Hence, make sure to delete all the bookmarks on your Chrome browser. Follow these steps to delete the bookmarks:
Go to

chrome://bookmarks/

to open the Bookmarks Manager page.
Hit on More on each bookmark page or folder.
Select the Delete command button from the list of options.

Make sure to delete all the bookmarks that you've on the browser. There is a chance that the script may have altered your existing bookmark resulting in the Google Chrome critical error scam.
Delete Browsing History and Cache/Cookies
It would be best to consider clearing the browser history leading to the spamming script. Just in case you visit the same page and, unfortunately, get hijacked again.
Along with History, consider clearing the Cache and Cookies data as well. Just to clear all the traces of the spamming script.
Go to

chrome://history/clearBrowserData

in the URL.
Select the Time range from the drop-down.
I'd suggest selecting 'All Time' for better results.
Enable the Checkbox against Browsing History, Cookies and other Site data, and Cached images and files.

Hit the
button.
All the browsing data will be wiped out along with the injected script. This may also remove the details of the logins that you might have saved for some sites.
Reset Browser Settings
Lastly, you should reset your browser settings. Most of the browsing script manipulates the homepage URL and settings around it. Once you reset the browser settings, the browser will be as clean as a new installation.
Go to

chrome://settings/reset

to clean up Chrome.
Hit on the Restore settings to their original defaults option.
Hit the

command button in the popup box.
Your browser settings will be restored to default, along with the removal of temporary data. However, the other data like bookmarks, History, and saved passwords will not be cleared.
Bottom Line
It is essential to identify and wipe out the Google Chrome critical error spam because it may bug you when browsing. One should also not fall prey to those fake helplines (or hotlines) as they are fake.
If you follow the steps individually, I believe it will wipe out any issue and malware injected into the Chrome browser.
FAQs
We have listed some of the frequently asked questions related to Google Chrome critical error message scam:
How do I get rid of the critical error in Google Chrome?
You can try clearing the browsing history and Caches, resetting the default settings, deleting bookmarks, etc., to eliminate the critical error messages in Google Chrome.
How to clean the Google Chrome critical error messages?
Start restarting your internet connection; then, you can try clearing the caches, deleting the bookmarks, resetting the default settings, etc., to clean the Google Chrome critical error messages.
Will cleaning Google Chrome critical messages delete all my data on Chrome?
Cleaning the Google error messages won't delete your files, although resetting the browser data might delete the saved passwords. Perhaps, you can sign in and sync the passwords.
What is the Google Chrome Critical Error Scam?
The Google Chrome Critical Error Scam is a deceptive tactic employed by cybercriminals to trick users into believing their browser has encountered a critical error. They often display alarming messages urging users to call a fake technical support number.
How does the Google Critical Error Scam Chrome work?
In the Google Critical Error Scam Chrome variant, a pop-up or webpage with a fake error message claims your Chrome browser has a critical issue. It urges you to call a provided number, which connects you to scammers posing as tech support. They then attempt to steal personal information or money from you.
How can I differentiate between a real Chrome error and the Critical Error Scam?
Genuine Chrome error messages usually won't urge you to call a support number. They might provide troubleshooting steps or redirect you to Chrome's official help resources. The Critical Error Scam often uses scare tactics and aggressive language to create a sense of urgency.
Are there any official channels to report Google Chrome Critical Error Scams?
Yes, you can report scams and fraudulent websites to Google Safe Browsing. Additionally, you can report the scam to relevant authorities, such as the Federal Trade Commission (FTC) or your local consumer protection agency.
Lastly, if you've any thoughts or feedback, then feel free to drop in below comment box. You can also report the outdated information.