The Microsoft Edge browser is a pre-install default browser replacing the age-old Internet Explorer. Hence, it is a technically challenging task to remove or uninstall the Edge browser from Windows. Similarly, rollback or downgrading the Edge version requires technical expertise. However, switching back to the previous Edge browser version is possible.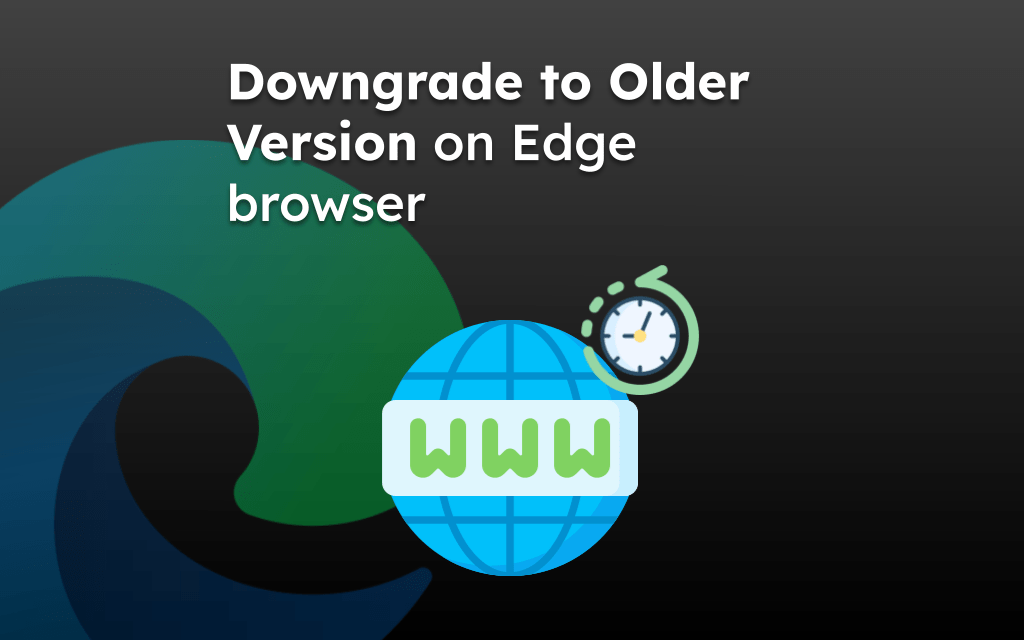 Microsoft Edge's Chromium-based browser has upscaled the popularity charts in no time whatsoever. It checkmarks all the prerequisites, but without being a resource hogger like Chrome, there's not much that one could have asked for.
Along the same lines, the browser also tends to get blessed with updates at regular intervals. These updates fix the underlying bugs, improve security and bring overall stability to the browning experience.
However, in some instances, it could spell trouble for some of the app's components. For example, a new update might break third-party add-ons or extensions. Likewise, if a buggy update gets rolled out, it would hinder the browser's usability.
While the developers tend to address these issues, it could take a few hours to even days to release a new build that patches the problem. So what could be your action while the issue is being addressed? You could skip this queue instead of spending your precious time playing this waiting game.
In other words, you could consider returning the browser's version to an earlier one that wasn't bugged with this issue. And when this issue gets rectified, you can easily update it to the latest build.
So without further ado, let's check out the steps to downgrade your Microsoft Edge to an earlier version on your Windows PC.
Downgrade Edge Updates
First, Microsoft has well-documented the downgrade process using the MSM Installer and Group Policy Editor methods. But these methods are exclusively for Edge's Business/Enterprise builds and wouldn't work with the general build. So we will be taking an alternate approach here.
But before that, you should sync all your data to be safer and avoid data loss concerns. Moreover, remember that downgrading might increase the risk of security issues.
Here are the steps to downgrade upgrades:
Exit the Microsoft Edge browser, and kill any processes from the Task Manager (Ctrl+Shift+Esc).
Keypress File Explorer.
+ shortcut keys to open
Head over to the Edge's Installer directory under Program Files.

C:\Program Files (x86)\Microsoft\Edge\Application\<version number>\Installer

Make sure to enter the correct version number (check your version at edge://settings/help page).


Go to the Address bar within the Installer folder, type in

cmd

, and hit key.
It shall launch the Command Prompt window.

Execute the uninstallation command in the CMD window.

setup --uninstall --system-level --verbose-logging

Hit the

button.
That's it. The currently installed version of Edge will be removed from your PC and replaced with an earlier build.
While uninstalling, you will get a checkbox asking if you want to delete the browsing data. Choose according to your preference.
Bottom Line
With this, we conclude the guide on downgrading to an older Edge version on Windows.
As you might have noticed, we only did uninstall this app, and the rollback was carried out automatically. So, couldn't we uninstall the browser directly from the Settings page and avoid this long route?
Unfortunately, the answer is in a negative tone. Because Windows OS has greyed out the Uninstall button for the Edge browser, you cannot remove it usually and would have to take the help of Command Prompt.

Apart from that, the method above doesn't allow you to select a version number to which you want to perform this downgrade.
Let us know if you can roll back to the previous version or any of your choice. I know it isn't straightforward, but that's how the Windows PC makes the Edge browser an integral part of their ecosystem.
Lastly, if you've any thoughts or feedback, then feel free to drop in below comment box. You can also report the outdated information.