The Apple devices can sync data like bookmarks, browsing history, reading list, etc. across the connected devices when signed-in with same iCloud account. However, there can intermittent issues that stop the synchronization. We can troubleshoot and fix the problem by rebooting the devices, turning off-on iCloud sync, re-login to iCloud account, installing the latest software on all connected devices.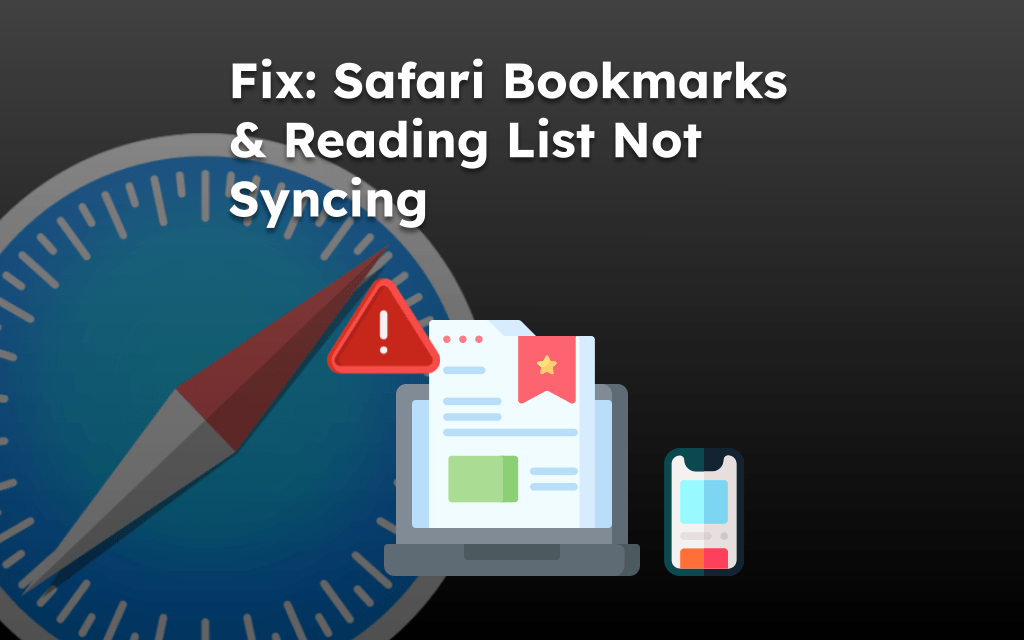 Bookmarks are a one-way ticket to access the web pages we visit more often easily. And similarly, Safari bookmarks and reading list is also great feature that simply enhances our browsing experience. It is a safe place to save all the important web pages and our favorite reads for later use.
We all have certain websites that we prefer the most and visit frequently. Now, it is quite a task to search for such web pages every time we need to visit them, and that's where bookmarks can save us a lot of time and effort. Moreover, the Safari browser lets you sync your bookmarks and reading list across multiple Apple devices over iCloud. Thus, it doesn't matter whether you are on your Mac, iPhone, or iPad; you will never lose track of your favorites.
However, what would happen if the Safari bookmark and reading list stopped syncing with other devices? Well, this is now an actual problem, as many Apple users have already reported that their bookmarks and reading list are not syncing properly.
And if you own multiple Apple devices and like to shuffle them more often, this could be a serious problem for you. You will neither have quick access to your saved bookmarks, nor you can undo the deleted ones on some other device.
Safari bookmark and reading list not syncing across other Apple devices might happen for a few reasons. It could be due to some glitch, a settings issue, or the browser itself. Well, whatever it may be, here we have a few workarounds to deal with such issues and fix them as soon as possible.
On this page, you can find and jump to:
Restart Safari Browsers
If you have already bookmarked a webpage on Safari browser on a device and trying to access it on another device, you may sometimes notice such issues. Considering our first fix, let's hope it is nothing more than a glitch. And if that is so, the initial step you could take is to restart the browser on your devices. A simple restart might sometimes fix a lot of issues. And hoping for the best; this should work for you as well.
If the Safari browser is not responding, you should consider force quitting and relaunching it on Mac.
Reboot your Devices
No matter whatever the problem you might be encountering, rebooting your device is always worth a try. And going with the traditional ways, we suggest you try out your luck and go for a reboot. If you are lucky enough, this will be enough to fix any mere problem with the Safari browser too. However, if it doesn't turn out to be an effective option, make sure to try out the next few fixes.
Reboot your iOS, iPadOS, and macOS devices.
Enable iCloud Safari Sync
Once you have tried out the basic ones, chances are that the iCloud Safari sync must be disabled on your device. And if that is so, then it is no wonder why your Safari bookmark and reading list are not syncing. At this point, you need to enable the iCloud Safari sync. You can do so by following the steps below:
iCloud Safari Sync on iPhone
Open Settings on your iPhone or iPad.
Tap on your Apple ID for options.

Select the iCloud menu and tap on the Show All option.
It will expand the list of apps using iCloud.
Scroll through the list to find the Safari app and toggle to enable sync.

It will enable the data sync for the Safari browser across the connected devices.
Enable Safari Sync on macOS
Click on the Apple menu and select the System Settings menu.
Click to open your Apple ID account settings page and select the iCloud tab.

Under the Apps Using iCloud section, click the button to expand the list.

Scroll down to the Safari app and ensure the toggle button is enabled for synchronization.

In case the feature is already enabled on your devices, make sure to disable it for a couple of seconds and again enable it. After doing so, check once again if that solves your trouble.
Re-login to your iCloud Account
If none of them resolves the issue, the next thing to do is sign out from your iCloud account and re-sign in. This trick has already helped many to get rid of the same issue, and hence it is worth trying out once. All you need to do is follow the steps below, and you will be ready.
Relogin iCloud On iPhone
Launch Settings and go to your Apple ID name.
Scroll to the bottom and hit on the

command.
Reboot your device.
Again open the device Settings and tap to Sign in to your iPhone with iCloud account.
After successful sign-in, make sure to enable the Sync toggle for the Safari app.
The Safari sync will be enabled, and it shall automatically start displaying bookmarks and reading list across all connected devices.
Relogin iCloud on Mac
Open the System Settings from the Apple menu on Mac.
Click on the Apple ID to display the account settings page.
Hit the Reboot your machine.

button and
Again open the same Apple ID page from the System Settings page.
Sign in with your iCloud account, and make sure the Safari sync toggle is enabled.
Now, check your Safari browser if the bookmarks and reading list have got synced after following iCloud re-login troubleshooting.
Update your Device Software
As for the final resort, we are considering a software update. Whether you are on your Mac or iPhone, if you consistently have the same issue and none of the methods really fix it, a software update might be a good solution.
The latest software upgrades might have been fixed if the issue is widespread. And updating the system software also overwrites the corrupt files hence ironing out the underlying issues if any.
The steps to update your iOS/macOS are as follows:
Updating your iOS
Open Settings on your phone, and head on to the General section.
Select Software Update to open the screen.
Wait until your device searches for the latest updates.
Tap the

button.
The update will be downloaded and installed on your device.
Updating your macOS
Click on the Apple menu and select the System Settings menu.

It will open the System Settings or Preferences page.
Select the Software Update tab.
It will check for any pending upgrades in the background.

Select the software update and hit the

button.
That's it. The software update will automatically download and install the latest version on your Apple devices.
Bottom Line
All in all, bookmarks and reading list features of the Safari browser were designed to make our user experience smoother and better. However, being a technical part, it is normal to encounter certain issues over time.
But if the Safari bookmark and reading list are not syncing across other devices, it might be due to some external problem. Thus, rather than playing around with Safari's settings, you must try these simple fixes. It can also fix the issue when open tabs are not syncing on the browser.
The above-mentioned solutions have proven extremely useful for most Apple users, including me. And hopefully, one of them should fix your issue as well.
Lastly, if you've any thoughts or feedback, then feel free to drop in below comment box. You can also report the outdated information.