There's no shortage of Chromium-based browsers, and this list continuously expands each year. But even with many options available to the end-users, there seems to be a genuine inclination toward the Opera Browser.
Among the oldest web browsers, it has its root firmly set in this domain from over two decades ago. And there hasn't been any dent in its popularity since then. From welcoming new features to improving overall stability, there have been a lot of reasons for its rise in popularity.
Then in recent years, it has also upped its game in the privacy domain. The incorporation of VPN and AdBlockers is a perfect example of the same. Likewise, its Multimedia Tools, the seamless integration via Bookmarks, Cross-Device Sync, and the My Flow feature have attracted many eyeballs.
Considering all these points, this comprehensive guide will make you aware of all the nifty features that Opera has in its arsenal. Likewise, a few of its shortcomings will also be addressed. So without further ado, let's get started.
Built-in Ad/Tracker Blocker
The browser comes built-in with its ad blocker, which blocks all harmful and intrusive ads. Along the same lines, it also comes with a tracker blocker that stops all malicious and dangerous scripts from running and stops them from tracking your online activities.
Likewise, these blockers also stop cryptocurrency mining scripts and crypto-jacking. All this leads to dual benefits. First, you get a more secure browsing experience, which is more along the noticeable lines. The second benefit is that webpages will load much quicker than before because they don't have to load ads or scripts.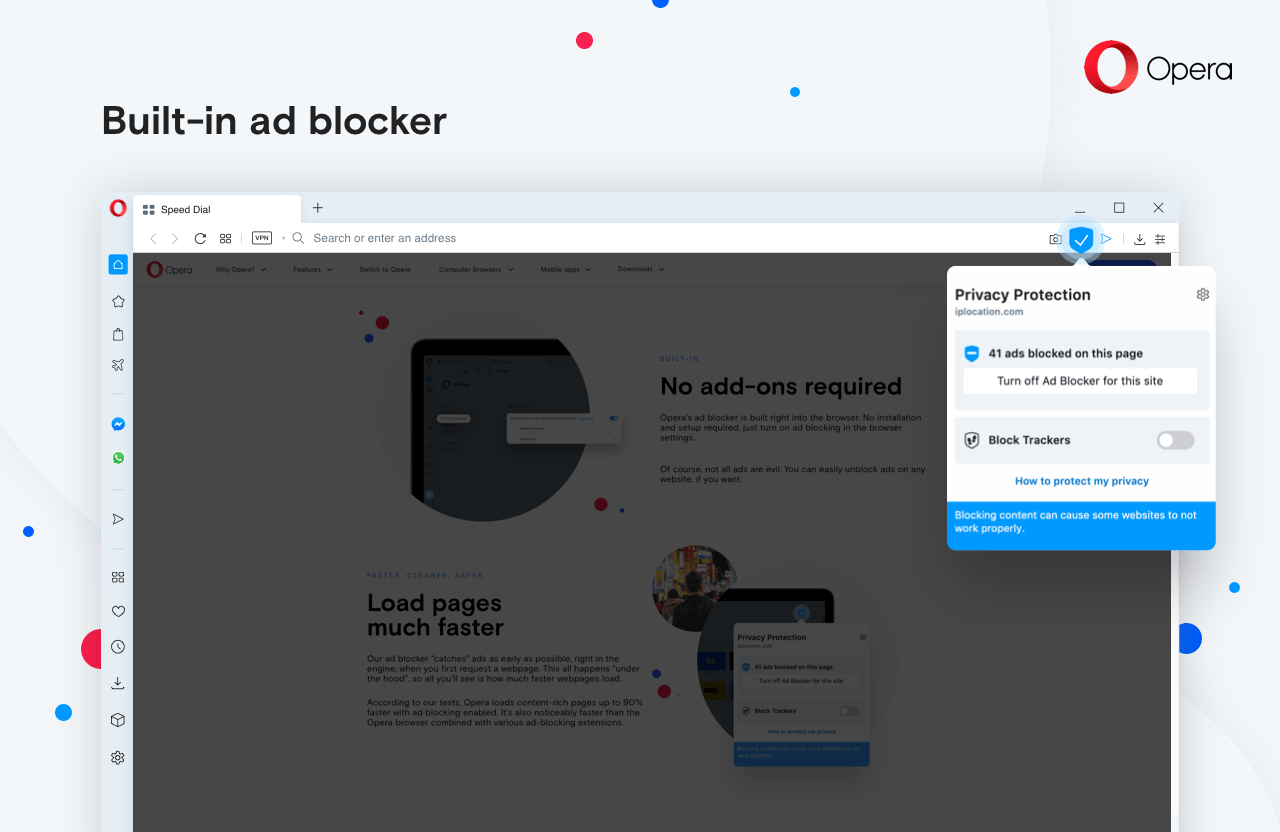 To enable the ad blocker, go to Settings > Block Ads > Enable the Block ads and surf the web up to three times faster toggle. Likewise, Tracker Blocker could be enabled via the Settings > Basic > Privacy Protection > Enable the Block Trackers option.
However, if you wish to support any publisher, Opera has allowed you to customize your blocking rule and add the desired websites to the whitelist. The same could be done via the Manage Exception option.
Opera VPN
The browser also has its VPN service built in so that you don't have to take the help of any third-party app or service. A Virtual Private Network directs your network traffic via its networks for the unaware. This helps you browse privately by hiding your IP Address and allows you to access geo-restricted content.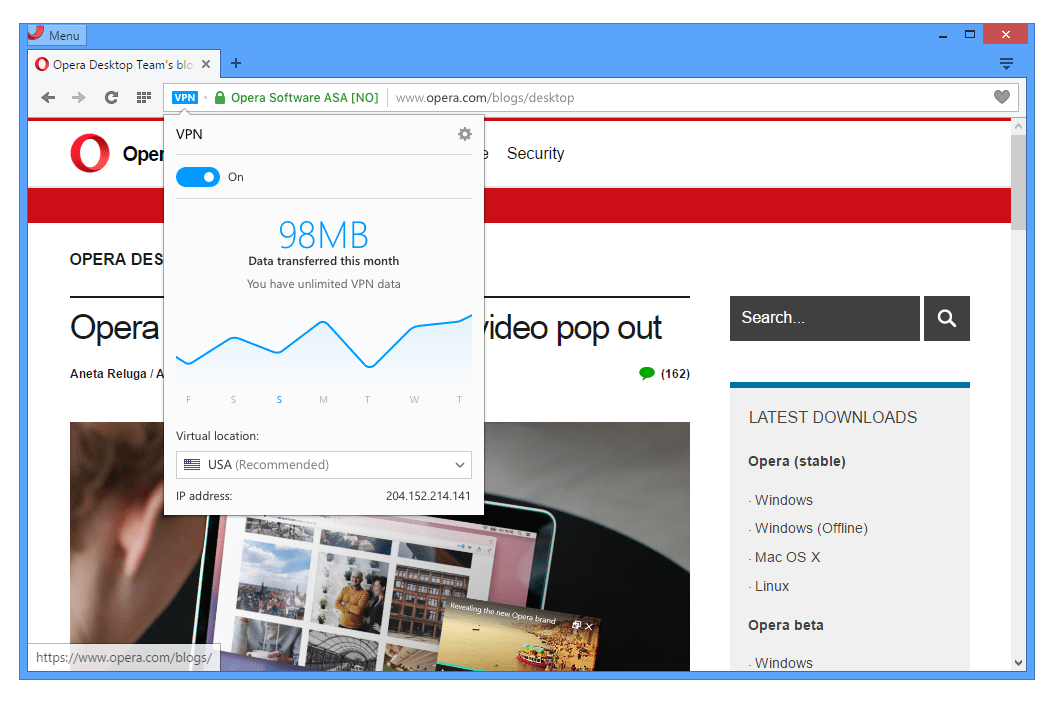 When you enable the VPN, Opera will automatically allocate your nearest server. Furthermore, you could also add search engines to the whitelist so that they can bypass the VPN and display search results related to your actual location rather than the proxied one.
Head to Settings > Advanced > Privacy and Security > Click on Enable VPN to enable this VPN. Likewise, you may also enable the "Bypass VPN for default search engines" toggle under the VPN section.
Opera seems to have struck a chord when it comes to the Bookmark. To begin with, you could easily create, edit and delete your preferred bookmarks with just a single click. Likewise, there's also a Bookmark bar where you can add your frequently visited sites and access them as and when needed.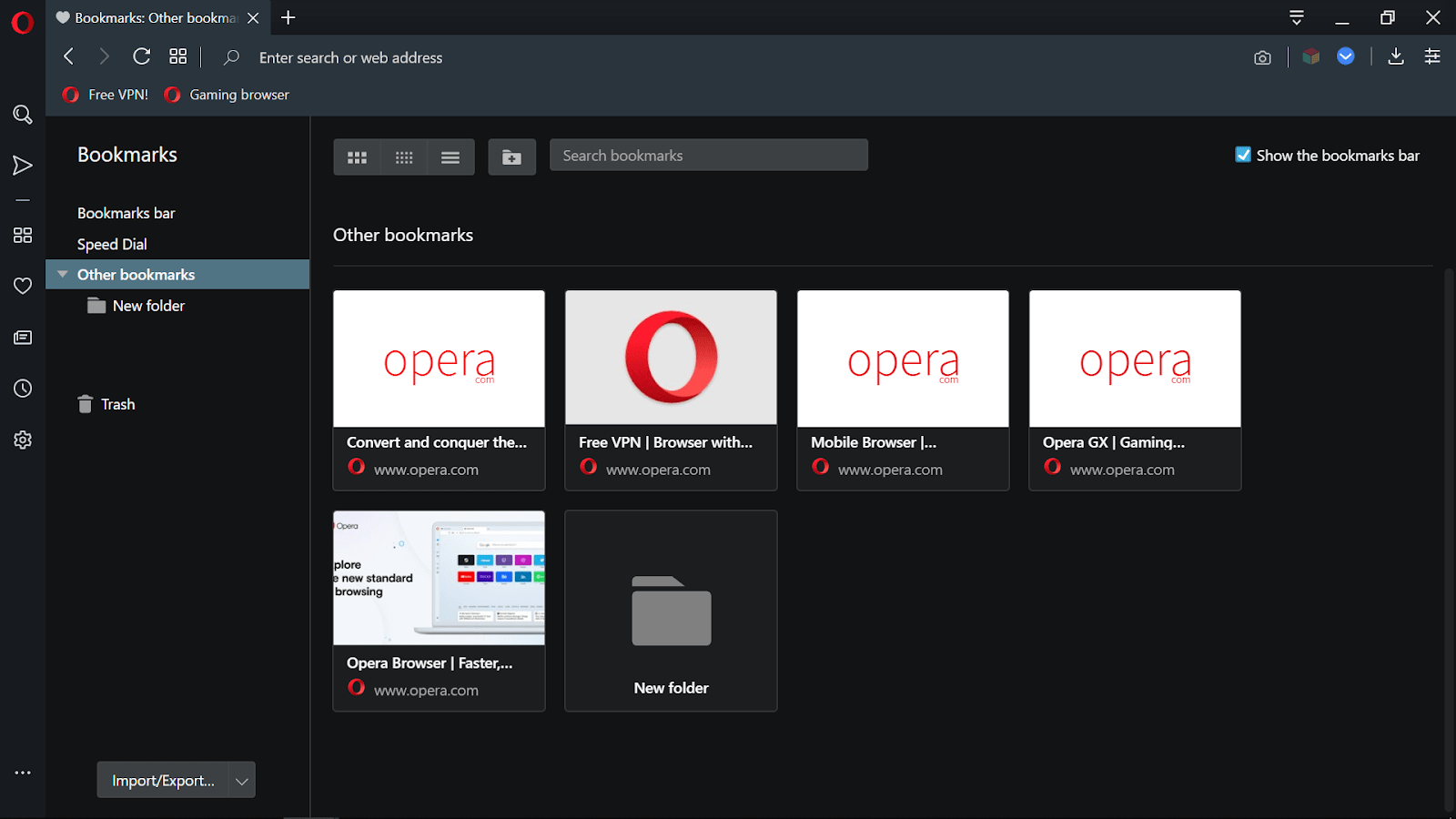 Moreover, you could also categorize websites under a separate Bookmark folder. This gives you a clutter-free look and makes searching for a particular website easy. The browser also allows you to import bookmarks from other web browsers or export them from Opera to other browsers via an HTML file.
If you are logged in with your Opera account across various devices, you can seamlessly sync all the browser data across these devices. Be it the bookmarks, passwords, history, settings, shortcuts, or even the tabs you have opened, you can access them from all the linked devices.
The My Flow Feature allows you to share your preferred content across all the synced devices. So if you come across an intriguing piece of write-up, a funny video clip, or a URL on your PC, you directly send them to the Opera browser installed on your smartphone.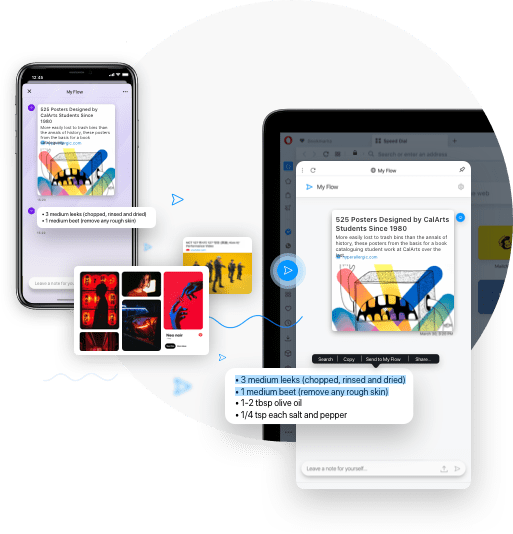 My Flow has a built-in media player to view the shared image or video directly without leaving the Opera ecosystem. You need to enable My Flow from the Easy Setup menu. To try it out, once that is done, go to the sidebar, and hit the My Flow icon to bring up the QR Code. Now scan this code via your smartphone, and the setup stands complete.
Multimedia Tools
The browser has some pretty helpful multimedia tools up its sleeves. First, a Video pop-out feature allows you to play any video in a PiP (Picture-in-Picture) Mode. This will send the video to a windowed mode, occupying only a corner of your screen.
As a result, you could easily continue your work and simultaneously check out the video being played, all within a single tab. Furthermore, you could easily adjust the size of this window or drag and drop it to any preferred location on your screen.
Then there's a Snapshot Tool that allows you to take and edit screenshots on the go. Talking about which, you could easily customize the screengrab via Zoom, Blur, Marker, Text, and Emoji, among others, right from the Snapshot tool itself. It would be best if you invoked the tool via the Shift + Ctrl + 5 shortcut keys combination to try it out.
WorkSpaces
Like Edge's Collections or Chrome's Tab Groups, Workspaces allows you to create separate groups for tabs belonging to a particular domain. For example, you could create a professional workspace and send all your office-related tabs to that section.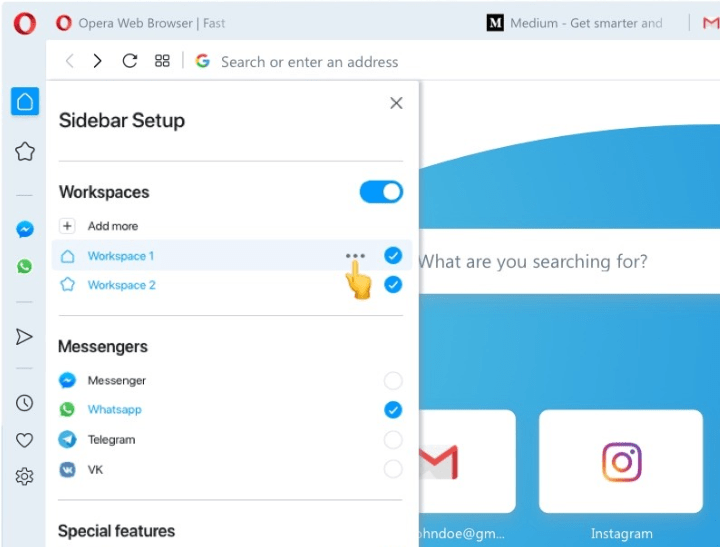 Likewise, you may let your Netflix and YouTube tabs have a separate abode under the Streaming workspace. You could add up to 5 tabs in each space, give each workspace a name for easier identification, hide them when they are non-active, or even delete them altogether. All these options related to Workspace can be accessed directly from the Sidebar itself.
There is a slew of personalization options baked into this browser that you could use to customize the experience. To begin with, each new tab has a News Feed, which by default shows the most popular happenings close to your region. However, you have the complete liberty to tweak it and change the language and region of these contents.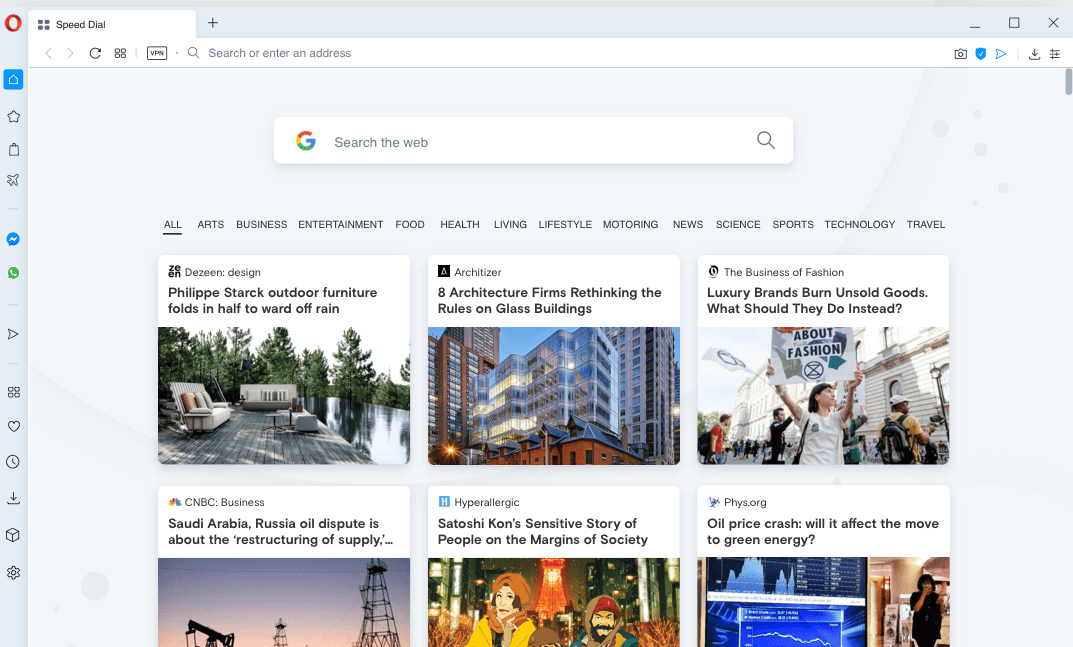 Another useful feature we found is the incorporation of social media handles. These include the likes of WhatsApp, FB Messenger, Telegram, Instagram, and Twitter, among others. Opera has also included a direct shortcut for each Instant Messaging platform to access them with a single click easily.
While I was initially reluctant to use it as my PC already has this functionality, there was no looking back after trying it out. Once you give Opera the required permission, it will automatically enable its Battery Saver and limit most backend activities.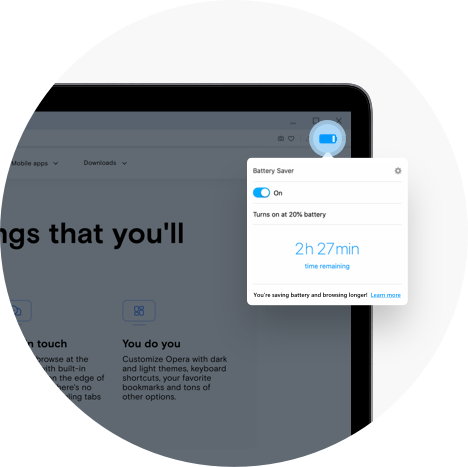 These include limiting the inactive tabs from hogging resources, putting a temporary pause to plugins and animations, and even going to the extent of "rescheduling JavaScript timers". Go to Settings > Advanced > Features > Battery saver to enable this feature.
CryptoWallet
Prefer dealing with virtual currencies? You would be glad to know that Opera has a separate section for this purpose. Its built crypto wallet allows you to send, receive and manage your cryptocurrency.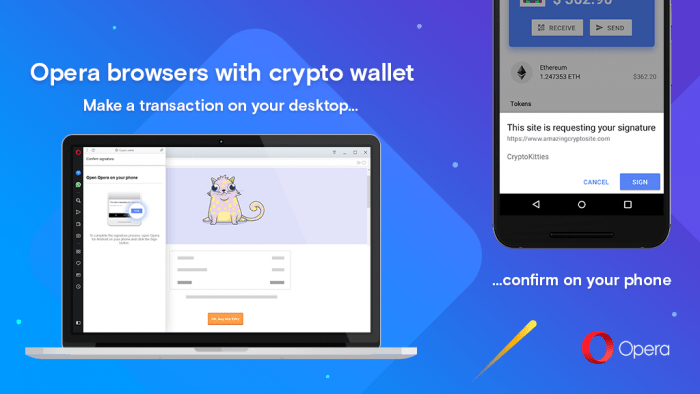 It has also incorporated a converter that allows you to convert the values of popular cryptocurrencies (such as Bitcoin and Ethereum) to your preferred currency. All these options are present under Settings > Crypto Wallet.
Bottom Line
Opera Browser: Overview and FeaturesAs you might have noticed, Opera has left no stone unturned and has managed to checkmark all the prerequisites a user could have requested from a web browser. With that said, it does have a few shortcomings as well.
An Opera Turbo feature baked into the web browser automatically compressed various webpage components, saving considerable network bandwidth. However, that feature has now been removed from the browser, which has left many users on a slightly confused note.
We also discovered that the support for third-party extensions wasn't as extensive as that of Google Chrome. While their domain is expanding, it's yet to reach the level the Silicon Valley giants offer.
In a nutshell, we are seeing some upscale progress being made by Opera. And it might be only a matter of time before it sheds off its tagline of being one of the best Chromium browsers and comes out among the best across all the platforms.
Overall, Chrome, Edge, and Firefox will have tough competition, and we, the end-users, would be the ultimate beneficiary. So with that, we round off this guide. What are your views about the Opera Browser? Do let us know your valuable opinions in the comments section below.
Lastly, if you've any thoughts or feedback on Opera Browser for Computer: Features and Overview, then feel free to drop in below comment box. You can also report the outdated information.