Safari Browser is full of features that make it easy to use for users, but sometimes the Safari browser might crash on your iPhone or iPad. So, in such cases, you can try out different fixes, such as restarting your iPhone/iPad, updating to the latest version, clearing browsing history and website data, turning off JavaScript, and disabling iCloud and Safari syncing.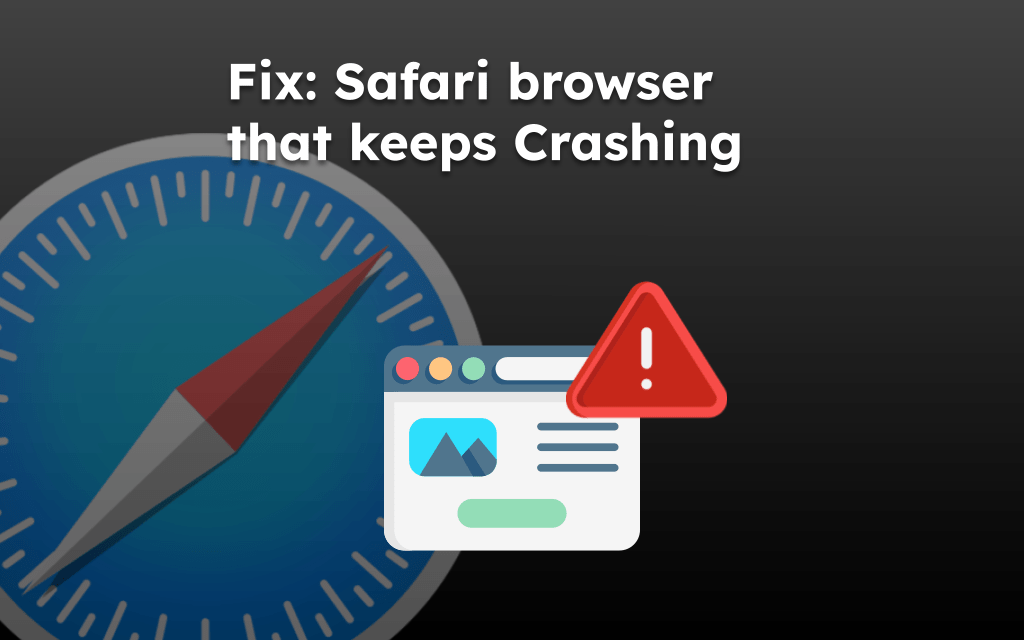 Safari is the default web browser that comes with Apple devices. The Safari browser is capable and packed with the latest features and security protocols. But still, you might face several scenarios where Safari keeps crashing on your iPhone or iPad devices.
I've been using the Safari browser for a long time, and this random browser crashing on my iPhone stutters web browsing functionality. And to my surprise, some of my friends faced the same issue.
To solve this Safari crashing issue, we researched a few reasons behind it and a few solutions that can fix these crashes.
Here are some troubleshooting steps that helped me fix the issue with the Safari browser on the iPhone. These methods should also help in resolving iPad Safari crashing.
On this page, you can find and jump to:
Restart your iPhone
This is an essential thing one should give a try. Just like a PC, your iPhone needs to restart sometimes.
Restarting your phone will give it a new process to start. More specifically, restarting your phone clears the memory, deletes all the temporary files, and restores everything to a cleaner state.
If your Safari crashes because of some temporary files, it will not crash again. Just revisit the site to check if Safari is fixed.
Update iOS/iPadOS
All the apps need to be updated to work with the newer version of iOS. Now, if you have a Safari version incompatible with older iOS, it may cause a crash.
Even if crashing is not an issue, you should update to the latest iOS, as Apple provides various bug fixes and security upgrades with new updates. This means that the newer iOS may have a fix for crashes.
Here are the steps to update:
Open your Settings app on iOS.
Select the General tab from the list of options.

Tap on the Software Update tab within General settings.
iOS will check for the update and if there are updates available.
Install the new version by tapping on the Download and Install command option.

Wait for the update to get installed on your iPhone, and check the Safari browser to see if it is working without any issues.
Clear Browsing and Website Data
Safari browser stores site data, history, cache, and cookies. This stored data makes loading faster if you are using some sites frequently. However, sometimes these files and data get corrupted, and as a result, it crashes the browser.
The simple way to fix this is to clear this data. Before that, backup your website data if you need it later, as this will remove this data from your iPhone and iCloud. Here are the steps to follow:
Open the Settings app.
Tap on the Safari tab from the list.
Tap the Clear History and Data option under the About Safari & Privacy… section.

This will delete the Safari browser's cache, cookies data, and browsing history. Recheck your Safari browser if the crashing issue remains after clearing the data.
Turn off JavaScript
A lot of websites use a programming language named Javascript. This programming language provides all the features and animations for the website.
It is a great thing, but when the code is not written carefully, it may not load the websites correctly, which can cause the Safari browser to crash on iPhone or iPad. Here are the steps:
Open the Settings app on iOS
Tap on the Safari tab within Settings.
Scroll down and open the Advanced option.
Now toggle the Javascript option slider to disable it.

This will immediately disable the JavaScript execution and fix your Safari crashing issue.
Disable iCloud and Safari syncing
The iCloud feature syncs all your Safari data with iCloud. If you tried all the above solutions and your Safari browser is still crashing, the problem might be with iCloud and not your phone.
This syncing feature might be helpful, but there are chances it is a reason behind Safari crashes. It would be best if you tried disabling and re-enabling iCloud Sync.
Open the Settings app on the iPhone.
Tap on an Apple ID name that is available within Settings.

Tap on the iCloud option.
Disable the toggle button against Safari to disable iCloud Sync.
That's all. This will fix your Safari crashes. You can re-enable iCloud Sync. Else the Safari open tabs will not sync across devices.
Bottom Line
To sum up, these solutions helped my friends and me to fix the annoying Safari crashed error on our iPhone, and I'm sure one of these will surely fix your problem.
Most of the problem was due to storage accumulated over time for cache and cookies. Hence, clearing the cache immediately resolved the problem with Safari crashing.
However, if these solutions fail, you can report your issue to Apple technical support. Technical support will help you with the fix.
Hopefully, this helps you in fixing your Safari crash issue. Let us know if anything else has worked for you in resolving the issue.
Lastly, if you've any thoughts or feedback, then feel free to drop in below comment box. You can also report the outdated information.