The Chrome Enterprise is a highly secured enterprise-level managed and supported web browser that is generally used in medium to large organizations and managed by the network and IT administrator. Whereas, Google Chrome is a personal web browser with community support.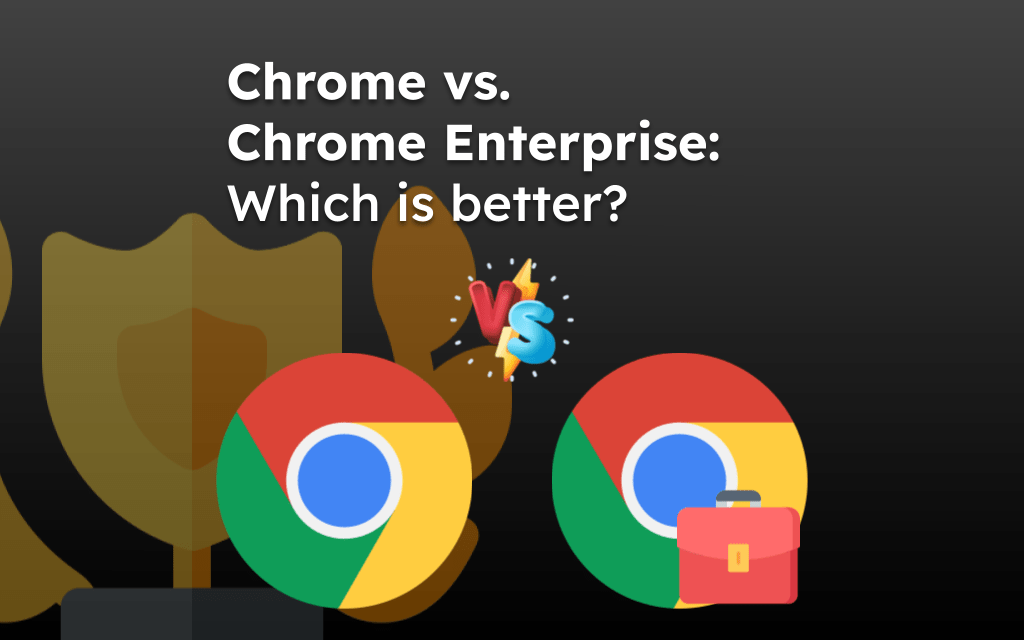 Well, both browsers have the same fundamentals, the primary differentiating factor being that the Enterprise edition is named so because it is installed on Chrome Enterprise. In contrast, the general Chrome browser retains its original name.
This statement from Google in its Enterprise Help Page should clarify our above statement: "The Chrome Browser for the enterprise (sometimes referred to as Chrome Enterprise) is the same Chrome Browser used by consumers."
But that's not it. Apart from this naming convention, there are still a few differences in both these browsers that we would like to draw your attention towards. So without further ado, let's get started with the comparison between Chrome vs. Chrome Enterprise.
On this page, you can find and jump to:
Browser Features
One of the best yardsticks for understanding an offering is looking at its feature set. So before digging deep into their technical aspects, let's check out what each of these browsers has in store.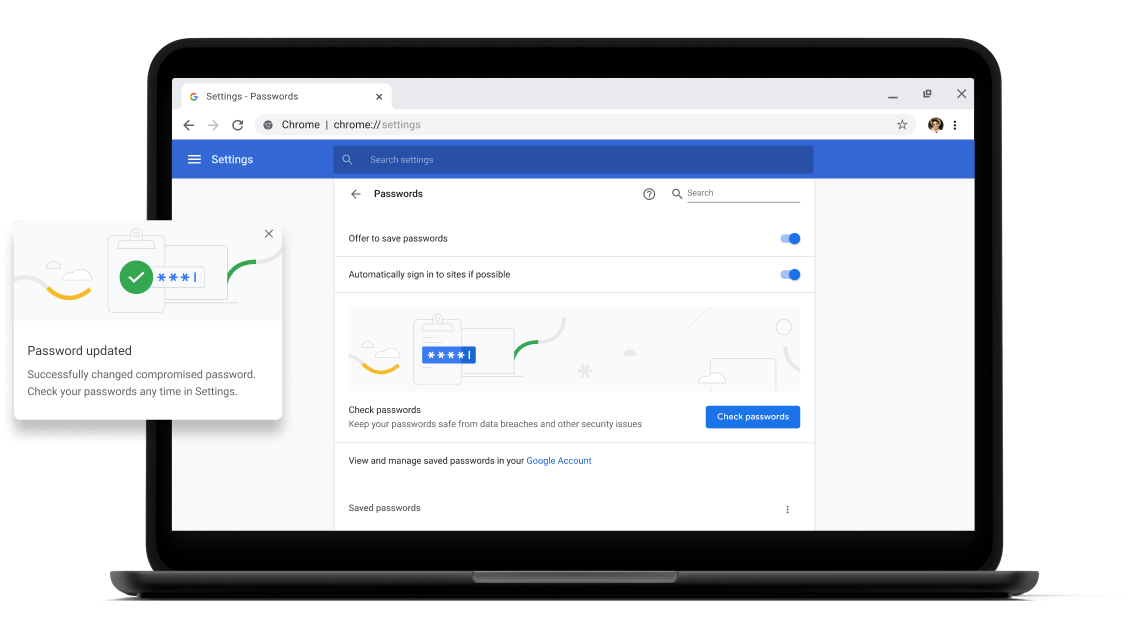 Chrome browser has often been regarded as the best web browser present; its plethora of features is the reason for the same. These include Bookmark Management, Sync and Cross-device support, Tab Management, Built-in Password Manager, and a vast collection of third-party add-ons and extensions.
When it comes to the Chrome Enterprise edition has all the features above baked in. But on top of that, it has also benefited from the fact that it runs in the Enterprise environment and can incorporate some of its features. For example, access to enterprise apps and the integration of cloud management software are a boon to businesses.
One cannot comment about the winner in such a scenario. For businesses, Chrome Enterprise is hands down the go-to choice. And for general users, the standard Chrome browser is more than enough to meet their daily requirements.
Browser Deployment
Deploying an app or software helps us understand how it could be efficiently handled and managed in the long run.
There are not many technicalities involved in the standard Chrome browser. You need to download the setup, proceed with the on-screen instructions and install it at your preferred location. You could then customize it to your liking to align with your prerequisites.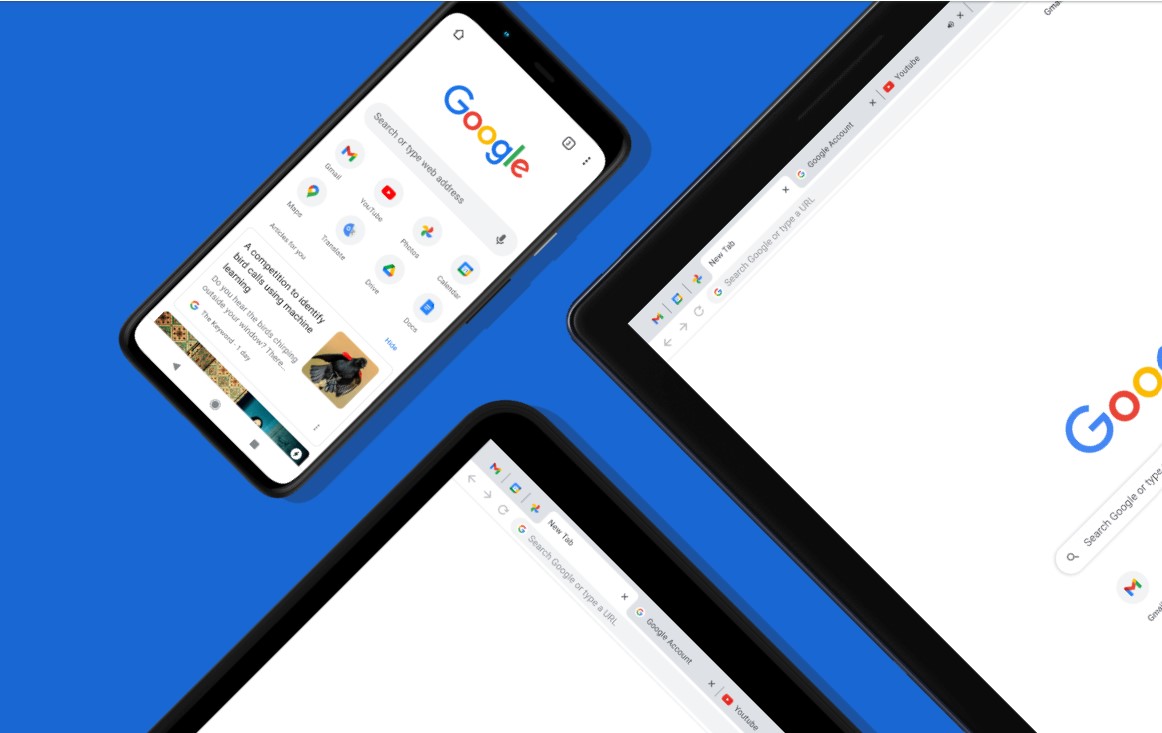 However, things aren't that much simpler in the Enterprise field. The Network or IT Administrators generally install the Chrome Enterprise Bundle. They, in turn, are responsible for ensuring that all the corporate PCs are running the same build and that they have been closely integrated under one shared ecosystem.
Chrome for Enterprise Edition requires much effort to set it up compared to the standard Chrome Browser. However, it isn't a shortcoming since it is being deployed on a large-scale basis and not on a single PC.
Working Level
Knowing if the software is working on a user level or has encapsulated the entire system will help understand its working mechanism and the permissions it asks for.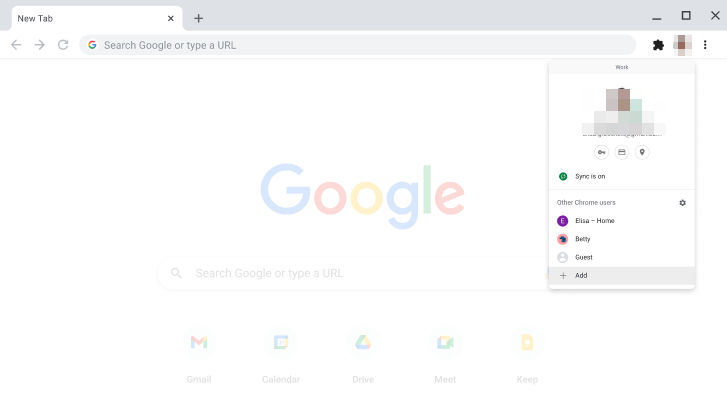 The normal Chrome browser is installed on a user-level basis. As a result, the changes made in Chrome for one user profile wouldn't affect the other users using the same PC. Furthermore, you could even use different browser instances on a single setup by installing its different Beta, Dev, and Canary versions builds.
The IT admins install Chrome's Enterprise build via its MSI installation file and are deployed on the system level. As a result, all the users working in an organization would have the same browser instance. This makes it easy for the network administrator to manage the rules and policies they plan to implement effectively.
It's a win-win scenario for both parties involved. On the one hand, the ability to install different Chrome builds on a single PC gives the user more options to choose from. On the other hand, only one browser version could be installed in the Enterprise Edition, allowing for a streamlined and synced workflow for organizations.
Platform Support
While Windows is the most popular OS, it isn't the only one out there. Many users are engrossed in the Apple ecosystem via Mac, while some are inclined towards Linux. So more comprehensive support for an app or software is always welcome.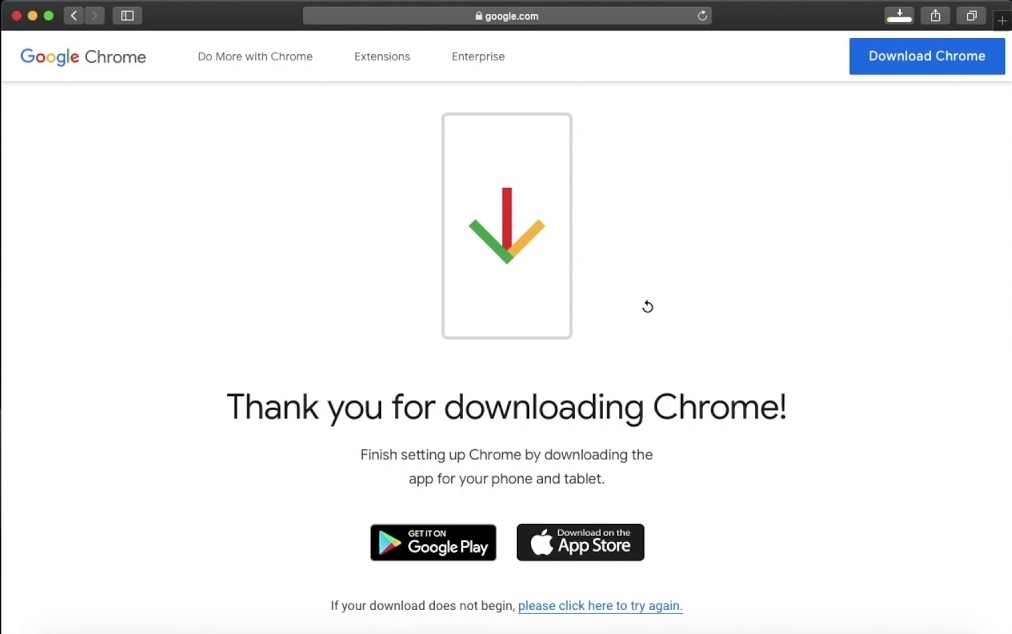 When it comes to the general Chrome browser, it supports both Windows and macOS. Along the same lines, it has actively supported open-source Ubuntu, Linux, and its other distros. Furthermore, you don't need to specify the OS version or type. Head to Chrome's official download page, which automatically gives you the setup file corresponding to your OS.
Along the same lines, Chrome Enterprise is also supported across Windows, Linux, and macOS. And it makes sense considering that some big organizations are actively using Linux, Ubuntu, and other distros. But keep in mind that setting it up requires implementing some policies, for which you might need the helping hand of IT personnel.
So both regular Chrome and its Enterprise edition pick up the winner's trophy, at least in this section.
Working Directory
When dealing with an app or software, getting hold of their working directory is essential. This way, you will know where it saves the all-important data and the less-important cache files.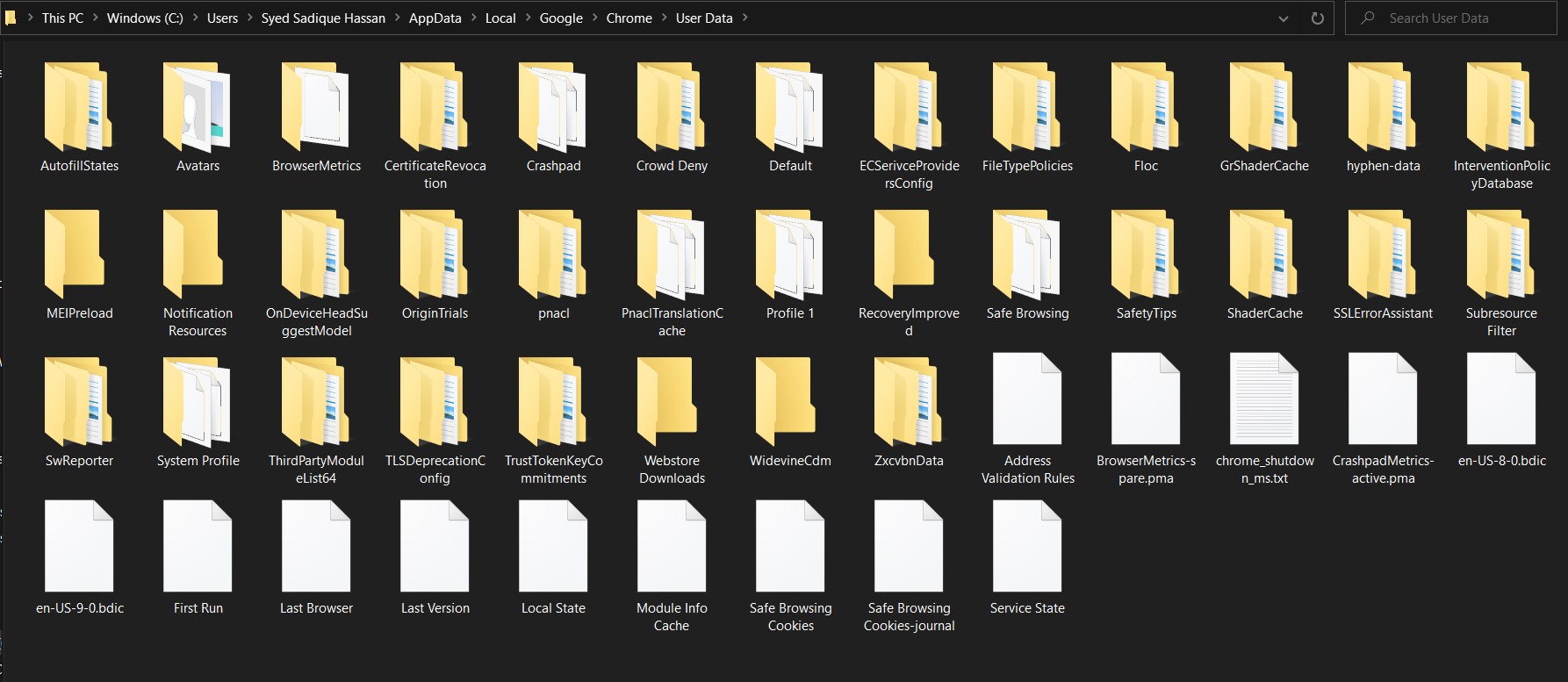 Installing Chrome via its .exe file uses the User Data directory on Windows. This is because the normal Chrome version works on a user-level basis. Along the same lines, it uses the Default folder in Mac and Linux. Here's the complete location corresponding to all three OS:
Windows:

C:\Users\UserName\AppData\Local\Google\Chrome\User Data

Mac OS X:

~/Library/Application Support/Google/Chrome/Default

Linux OS:

~/.config/google-chrome/Default
On the other hand, as mentioned, Chrome Enterprise doesn't work on a user level and installs itself on a system level. As a result, it doesn't deal with User Data but uses Windows' Program Files directory.
On paper, it might sound like the standard Chrome browser does better at privacy than Enterprise, as the former only accesses the user data. But that wouldn't be the correct metric for judging the privacy aspect, as the enterprise edition is specially crafted to work at the system level with escalated privileges.
Upgrade and Downgrade
Using the latest build of an app is always recommended as the developer patches and fixes underlying issues and might also bring in new features. However, in some instances, a new version might break some app functionalities, so users prefer to roll back to an earlier version temporarily.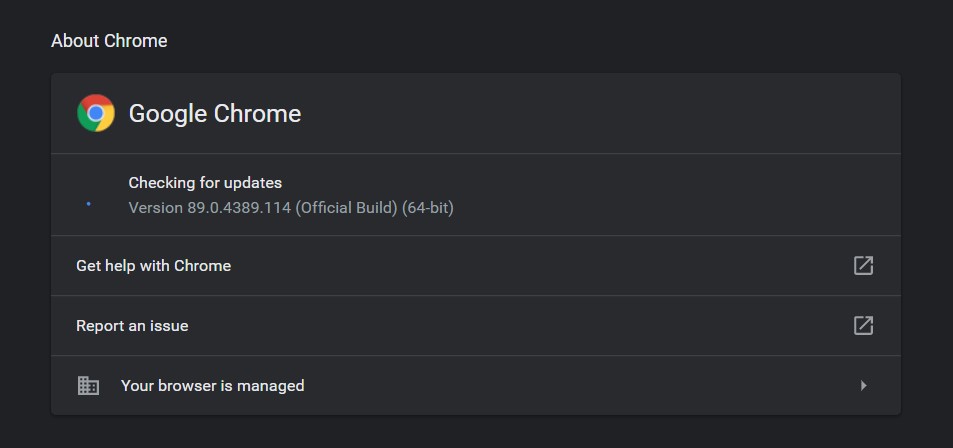 You could easily update to the latest build of Chrome right from within the browser itself. But downgrading requires you to step into unchartered territory and look for its older builds on other third-party sites. Still, these sites are easy to get hold of, and downgrading turns out to be a reasonably straightforward process.
Regarding the Enterprise edition, users with the required permissions set could perform the update process from the browser's ecosystem. However, downgrading is a highly challenging task. Not only is finding an older MSI Installation setup challenging, but carrying out a downgrade on an organization-wide level often involves risks.
As a result, the standard Chrome browser outdoes its Enterprise version regarding the downgrade process.
Third-Party Extension Support
Using add-ons and extensions adds more to the overall browsing experience. Likewise, they also tend to add more functionalities to the software.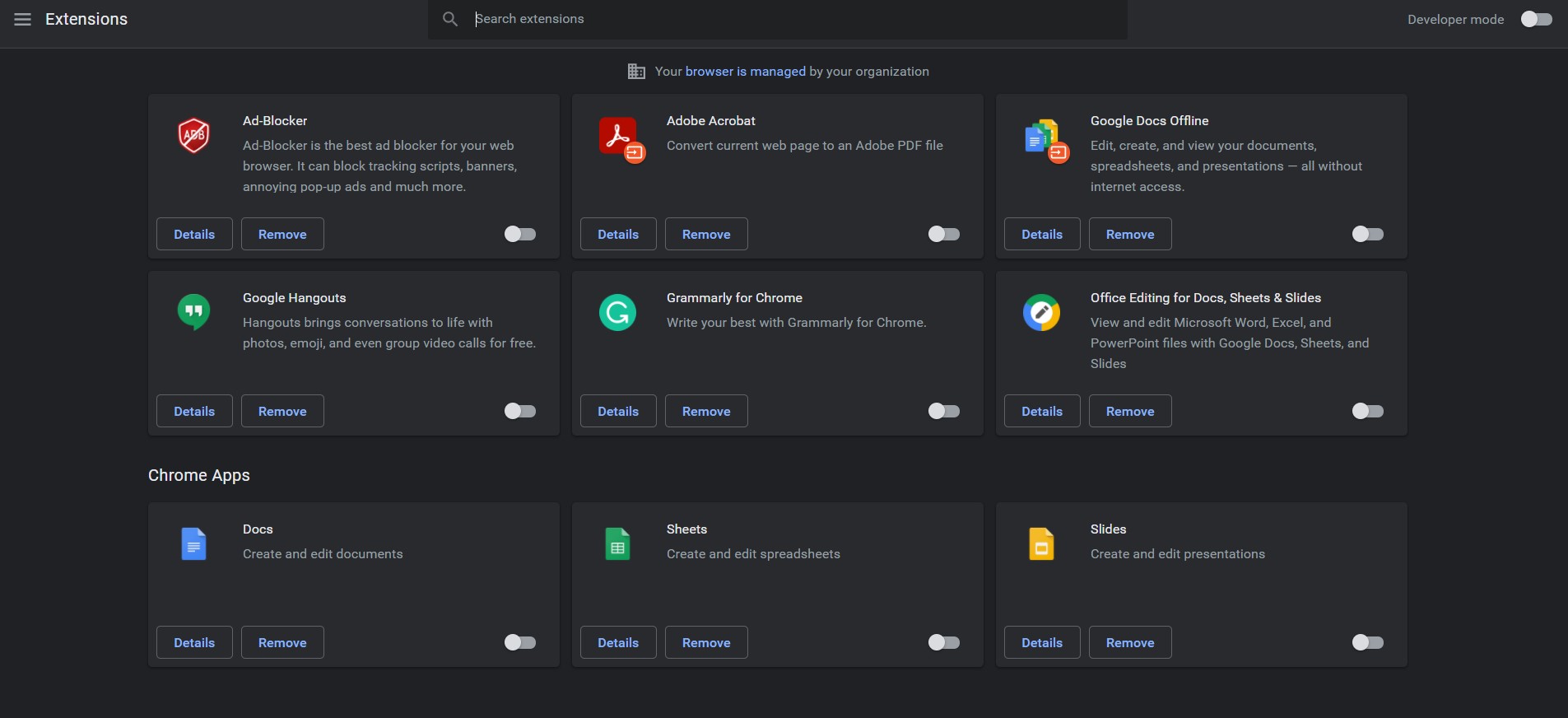 When it comes to Chrome, it's no hidden secret that it probably has among the most extensive collection of add-ons and extensions. Be it for productivity, security, performance, or just changing the look and feel of the overall browser, you name it, and the Chromium ecosystem would have in store for you.
Likewise, Chrome for Enterprise could also make use of these add-ons. However, most organizations prefer to maintain a safe distance from it, considering the security risks involved. Instead, they use Windows Group Policy and Registry settings to implement various policies that might help them extract the browser's full potential.
Again, both browsers have an equal share of the pie. While the Chrome web store is enough to meet the needs of everyday users, for Enterprise users, the Group Policy Editor is usually the go-to choice.
Bottom Line
We conclude the extensive coverage of the differences between the Chrome browser and its Enterprise counterpart. As it turns out, the former is handy for personal usage and small organizations.
On the other hand, the Enterprise build is mainly for companies looking for business solutions by integrating the various offerings of the Silicon Valley giants.
FAQs
Is Chrome Enterprise Free?
Yes, Chrome Enterprise is accessible at no extra cost. However, you can subscribe to enterprise-level support, which is optional.
What is Google Chrome Enterprise?
The Google Chrome browser for Enterprise is a business-grade web browser managed by the network and IT administrator within the organization.
What kind of businesses would benefit most from opting for Chrome Enterprise?
Chrome Enterprise is particularly beneficial for businesses that require strict security measures, need to manage a large number of devices, or want to customize browser policies to align with their organizational needs.
How do I know if I have Chrome Enterprise?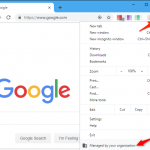 Launch the Google Chrome browser and open the More Options menu to check for the notice "Managed by your organization". If you can see Managed by your organization, you have Chrome Enterprise.
How much does Chrome for Enterprise cost?
Chrome Enterprise or Chrome for Business Upgrade is bundled with the business capabilities of Chrome OS, Chrome Enterprise Browser, and Chrome devices. The Chrome Enterprise costs USD 50 per device per year for an upgrade.
How does Chrome for Enterprise differ from the standalone Chrome browser?
Chrome for Enterprise includes all the features of the standard Chrome browser, but it adds extra functionalities like enhanced security controls, group policy management, and better deployment options for IT administrators.
Lastly, if you've any thoughts or feedback, then feel free to drop in below comment box. You can also report the outdated information.