Launched in 2008, the Google Chrome Browser is today's most installed web browser. This isn't by mistake or by luck. Google Chrome is the fastest browser; you can drag tabs out into separate windows, among other advantages. It is also fundamental and easy to use.
You might be asking, why should I have a default web browser in the first place? The default web browser application automatically launches when you click on a Web page, link, or document.
Windows, for example, comes with Microsoft Edge as its default browser. Using such a browser for regular use may rob you of a minute or two of your precious time due to delayed load time. Perhaps Microsoft has thoughtfully rebuilt the browser based on the Chromium project giving tough competition to Google Chrome.
But, features like Google account password and bookmark sync, extension support, cross-device migration, etc., still make Chrome the number one choice over competitors. If you want to stay and continue browsing on Chrome, you must switch the default browser settings to Google Chrome.
Before we go any further, you must install the Google Chrome browser on your computer or phone. You can download the Chrome app from the app or play store for your phone or from Google's website if you use a desktop or laptop. Most Android phones come with Google Chrome pre-installed.
Set as Default on Windows 11
Setting Google Chrome your default browser on Windows 11 is pretty simple. This can be down from the default app setting.
On your computer, click the Start menu.
Choose the Settings options menu.

Select the Apps tab.
Open your Default apps from the sidebar pane.

At the bottom, under Web browser, click your current browser.
In the Choose an app window, choose Google Chrome.

Hit on the Done command button.
This will make Google Chrome your default browser on Windows 10 computers.
Please note with Windows 10, different operating system versions might dictate different steps. On one version, click System, then goes to Default apps; on another, click Apps, then go to Default apps.
Alternatively, you can search the 'default apps' in the Windows search to land on the Default apps settings page.
Windows 8, 7, and earlier
The steps to set Google Chrome as your default browser are a bit different for people using Windows 8 or 7. Multiple version upgrades have improvised the Windows OS over some time. It has changed the navigation UI as well as the settings options.
Click the Start menu.
Open the Control Panel.

Click Programs.
Choose Default Programs and then Set Default Programs.

On the left side list, select the Google Chrome program.
Choose Set this program as the default option.

Hit on the OK button, and you are done.
With Windows 8 and earlier, all app settings are accessed using the control panel. Just like you will need to use the control panel to uninstall an app, you will also use it to set an app as default.
Set as Default on Mac
Whereas some people think the MacOS is complicated to maneuver, setting Google Chrome as your default browser is as simple as four steps. Here they are:
On your Mac computer, open the Google Chrome app.
In the top right, click the More  options menu.
Click the Settings menu from the list.

In the Default browser section, click Make default.

Whereas Microsoft Edge and Internet Explorer are the default browsers for Windows, Safari is the browser for Mac OS.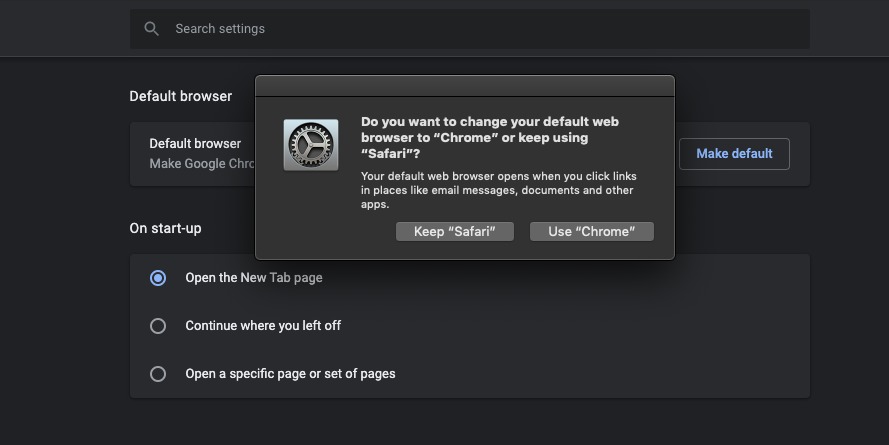 Please note that you must download and install Google Chrome on your Mac before proceeding to the above steps to set it as default.
Alternatively, you can set Chrome as the default browser from the System Preferences/Settings menu.
On your desktop screen, click on Apple in the menubar.
Choose the System Preferences/Settings menu option.

Choose the General settings category.
Under the General settings window, select the Default web browser app as Google Chrome.

And close the General settings window.
That will set Google Chrome as the Default web browser app on the Mac OS computer.
On Android Phones
Setting Google Chrome as a default browser on your Android phone is also very straightforward. It comes pre-installed on Android phones as mostly set as the default one. However, the customized stock Android UI like MIUI, ColorOS, LineageOS, etc., have their browser as the default.
On your Android phone, open Settings.
Tap the Apps and Notifications menu.

Open the Advanced tab menu.
Choose the Default Apps tab.

Open the Browser app menu for options.
Select Chrome Chrome from the available list.

Also, your Android phone might offer browser options when opening a link. Select Google Chrome and choose Always instead of Just once to set it as a default browser.
Most, if not all, Android phones come with Google Chrome pre-installed if your phone doesn't have Google Chrome installed, download and install it from the Google Play store before you embark on the above steps.
On iPhone/iPad
The latest iOS 14 has added a feature to set any installed web browser as the Default browser app in iOS. Earlier, only the Safari browser had a monopoly on iPhones and iPad.
Here are the steps to do:
Launch the Settings app on iOS
Scroll down and select Safari to open the App Settings page.
Tap on the Default Browser App menu.

Choose the Chrome app from the list of available browsers.

This will set the Google Chrome app as a default browser app on iOS or iPadOS devices.
You can also add the Chrome app handy on Dock. Just Tap and Hold the Chrome app until it starts jiggling. Move the Chrome app to the Dock pane at the bottom of the screen and release it to make it permanent.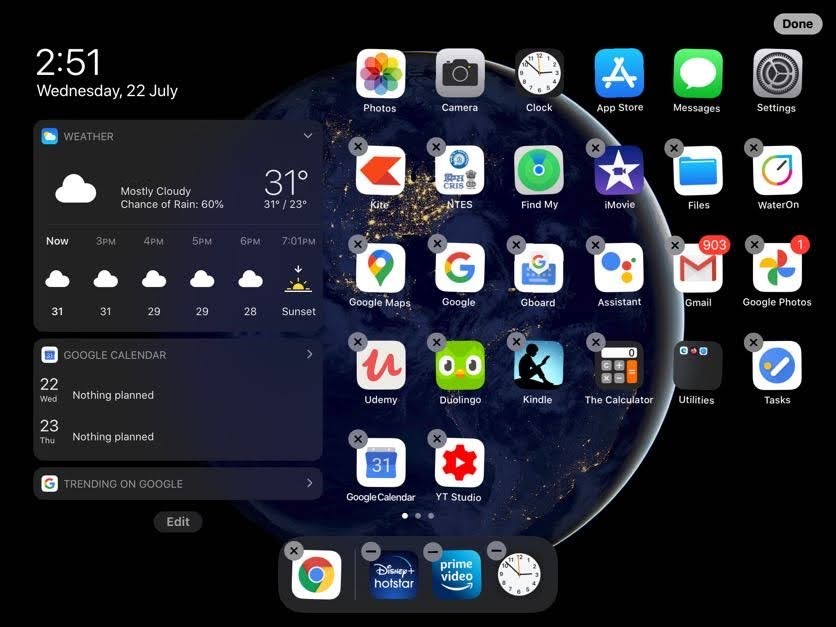 If there is no space on Docker, remove any one app you no longer need. You must first install it on your phone before you can use it.
Bottom Line
I usually use Google Chrome as my primary browser. It opens up links pretty fast and displays how web pages have been designed – it doesn't modify the pages with ad blockers.
If you also frequently use Google Chrome and are tired of having your URLs open in other browsers, you can follow the above steps to make Google Chrome your default browser and start browsing away.
Chrome is the most convenient Browser for most users, and when any of the links get opened in another browser, they might get irritated to learn the new features and controls. So, to prevent such a situation, follow the steps and make Chrome your default browser so that you never want to open any other Browser on your device.
What is your favorite default browser, and why? Please share with us in the comments section below.
Lastly, if you've any thoughts or feedback on How to Set Google Chrome as Default Browser, then feel free to drop in below comment box. You can also report the outdated information.