The history of how the Safari web browser flourished is quite interesting. Before 2003—Apple, in an agreement with Microsoft, was using Internet Explorer as a default browser for macOS.
PC users could sense the frustration of Mac users before the guys at Apple discerned they needed their browsers. The agreement with Microsoft was for five years. And in 2003, Steve Jobs announced Safari for macOS.
Like Apple's other products and software, Safari was a significant achievement. It was not available for any other operating system except Mac OS. Although, after a while, Apple decided to develop a Safari version for Windows but eventually discontinued it. Safari is still the default browser for all Apple devices—iPhones, Macs, iPad, and MacBooks.
Safari for Windows OS was available until 2012. After that, Apple discontinued renewing the software for the Windows system. Although the older version runs on Windows, the security advancement and modern features won't be available in that version. It is far better than Internet Explorer. And it can also compete well with today's advanced browsers.
A week ago, my younger brother visited my house for an assignment. While at it, he asked if I could tell him about the Safari Browser's features.
The Safari web browser has been around for a long time now. Yet still, it has some gaps to fill. The performance is brilliant. And looking at Apple's privacy record, we can rely on Safari's privacy. This overview will make it easy to decide whether to stick with your default browser—Safari or replace it with alternatives on macOS.
Apple Safari for PC is one of the best browsers for your Mac computers, as it's free, secure, and safe! But is it? Today we talk about Safari Browser, its interface, features, security, and more. Here is a complete Safari Browser overview:
User Interface
The interface undoubtedly is aimed toward the Mac operating system. MacOS users will find it a bit familiar. The design is minimalistic (unless you fill it with dozens of extensions). It entirely agrees with Apple's mantra, "Simplicity is the ultimate sophistication".
The Safari web browser offers a built-in multi-touch zoom. When a site's text appears too small, there are two ways to zoom in.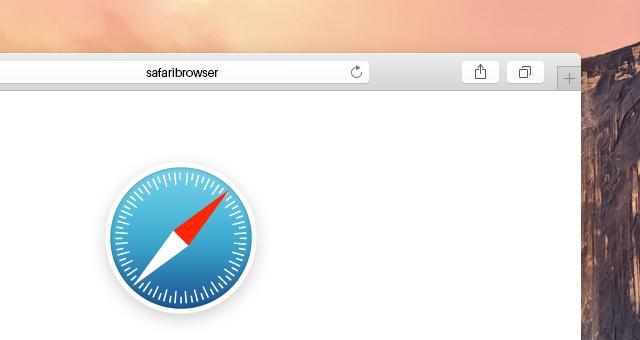 Double-tap the trackpad; this act will automatically fit the site with the screen and
Pinch the trackpad; this gesture lets you zoom in and out manually.
Safari Browser offers a vast collection of tools. One of the best you will come across is the Reading list. The built-in tool lets you list websites you want to access anytime, even when disconnected from the Internet.
Furthermore, the Reading list tool is integrated with Safari's interface. It proves itself to be a helpful tool. The websites added to the Reading list won't show ads and embed videos. That can distract you from scanning the content.
On Safari, you can rotate websites in landscape and portrait modes, although this option is also available on other browsers. Safari brings the best out of it. The content won't get hidden, and whatever website you work on will fit precisely on your screen. The extension library of Safari is not as enormous as Firefox or Chrome.
However, you will find everything you need for a convenient browsing experience. In Apple's extension library, you will find extensions that can serve purposes such as Translating the whole site into a foreign language, bookmarking favorite sites, and storing entire articles. Set up password solutions, remember passwords, and much more valuable stuff. If you consider digging a little deeper, we will talk more about extensions at the end of the article.
Features and Options
Safari Browser offers dozens of features that make it a good competitor of big titans like Google Chrome and Mozilla Firefox.
The media support of the Safari web browser makes it as easy for websites to deliver videos with high-quality rich media as they display images. The media also presents an API that allows developers to create firm controls similar to the style of a web page. Safari supports built-in closed caption for HTML5 Video.
If a web page has included a closed caption, you can turn that on by clicking the CC button in the video controls.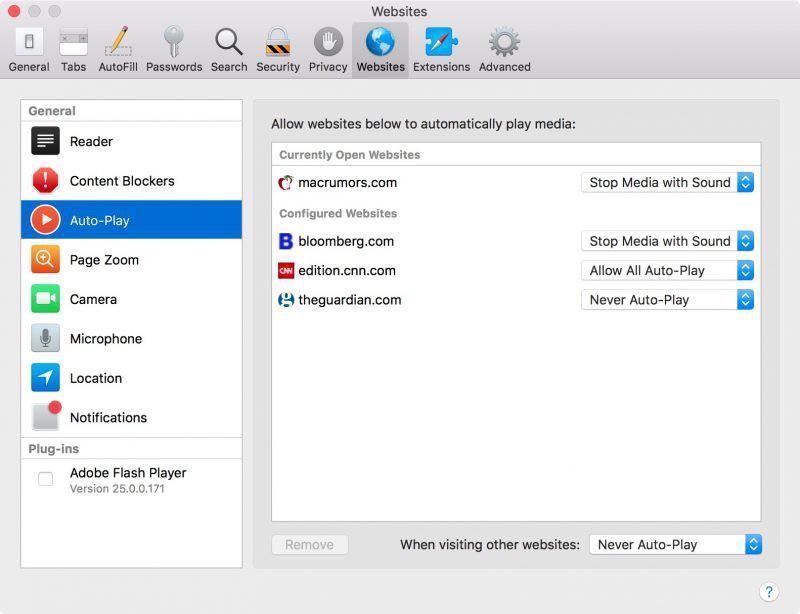 Now, we are moving to the features for customization. Safari Browser allows you to personalize your toolbar, resize it, and change the fonts.
Safari web browser makes it easy for you to shop online with a built-in Apple Pay feature. You can pay without entering payment, shipping, or contact information on Mac, iPhone, or iPad, and the transition is confirmed with a passcode and fingerprints. Moreover, Apple Pay is more secure than your credit and debit card.
You can view your browser history, as well as the content that you read. Safari Browser stores not only the site's link but also its content. You can enable private browsing if you don't want the browser to store your browsing data. It allows you to surf the web; your information, such as passwords, cache, and visit exit, will destroy history. Other valuable features serve the purpose of easy synch between devices, automatic filling out forms, download manager, and more.
Speed and Performance
Choosing a browser and pondering its Speed is old-fashioned because nowadays, every browser comes with intriguing Speed. If one is fast at loading websites, embed videos. The other one is speedy at switching tabs with loaded content. So I think Speed should not be a measure of analyzing the browser's excellence.
I tested the Speed of the Safari Browser and compared it with other browsers because of you guys. I concluded that sometimes Safari is that tortoise who wins the race, and sometimes it's a lazy rabbit.
The web browser tended to lose as much as a win against Chrome. In a test of changing tabs while playing videos on YouTube. Again, for most users, the difference is minor and might not be a helpful gauge of the value of the browser it's offering.
Privacy and Security
Have you ever wondered how you see ads for stuff everywhere you search?
For example, after searching for a bookstore on the web, you come back to your feed in your social media account. And after a while, you see the same online book store ads everywhere, or you watch a video review about a particular product, and after a few days, you see its remarketing ad everywhere you go on the web.
Creepy, right? Yes, it is. To prevent this and make you feel secure, Safari Browser uses the help of Intelligent Tracking Prevention. That finds advertisers who track your behavior on the web and destroy the cross-site data they leave behind.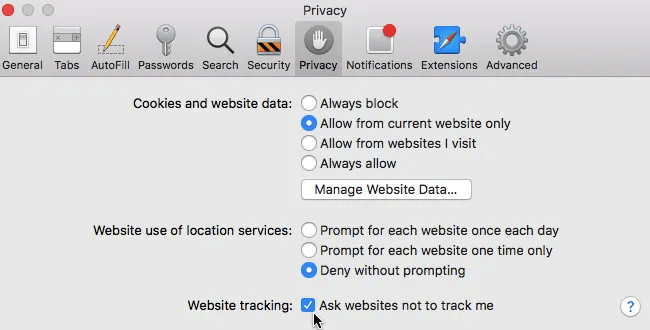 The Safari web browser also offers built-in protection for websites. That keeps your operating system safe from malware attacks and malicious links.
Furthermore, Safari Browser runs every webpage with separate processing systems. So if you happen to encounter malicious code, it will be limited to one web page tab and won't crash the entire browser.
Safari web browser also helps you to set strong and secure passwords by automatically suggesting convenient passwords. To save you time, a Safari web browser auto-fills the password fields once you allow it to store the passwords.
Extensions Support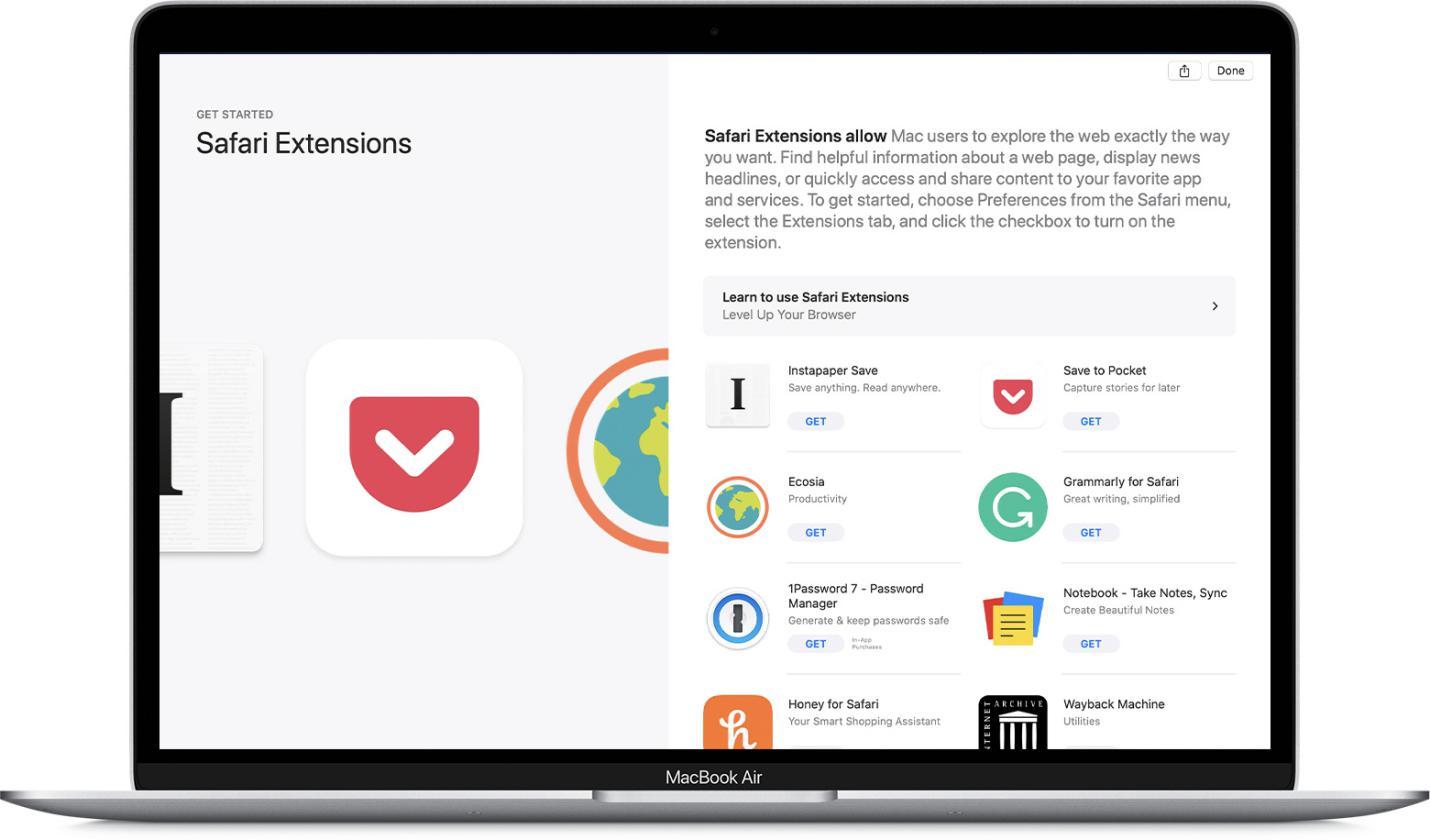 As discussed above, a bit about extensions—the library does not seem intriguing compared to other browsers. However, you will find plenty of beneficial extensions lacking in others.
For starters, Safari's library supports the best productivity tools. Three of my favorite extensions for the Apple Safari browser are described below:
Pocket
The well-known bookmarking tool. It has almost 22 million users who have stored almost 2 million of data.
The Pocket extension for the Safari browser extends the possibilities of cloud-based content archiving. By giving users explicit control to save any content, they would want to view it later.
The service by Pocket is entirely free. The content you save is also automatically synced and can be viewed on many devices.
Evernote Clipper
The Evernote Clipper is a note-taking and web-clipping extension. An estimated 200 million users use it.
It works impressively fast and can handle high-performance web pages. You can clip whole articles to view and read any time you want on any device that supports Evernote Clipper.
Furthermore, the extension can be used to share annotated images. It also allows you to send texts directly from the web.
Evernote Clipper allows users to search for information related to their accounts. That means you easily select specific content by clicking and dragging.
Adblock Plus
Everyone in this era of enforced advertisement needs an Adblocker. Adblock Plus extension for Safari web browser prevents annoying ads and can disturb you while surfing the web.
It blocks pop-ups, banners, videos, and other junk advertising.
Bottom Line
As I mentioned above, Apple has discontinued bringing new versions of Safari for Windows. Safari might not get a spot on one of the best browsers on Mac. However, it's certainly better than many out there, and I can bet on that.
The Apple Safari browser is attractive for Mac users and, yes, for all Apple devices. There will be less motivation for macOS users to replace Safari for many reasons. I also briefed my younger brother on all the Apple Safari web browser details to take his pick.
Moreover, Safari is secure, providing tight privacy. It also allows you to synchronize your data to every Apple device you own. Although for Windows users, Safari might not be a good choice.
Why do you think the Safari browser is the coolest? Do you like any other browser apart from the Safari browser?
FAQs
Is Safari better than Chrome?
Safari is built in and around the Apple ecosystem, whereas Chrome is compatible with the Google account.
Safari is a better choice if you need privacy and user data security. However, if you need better personalization and usability experience, Google won't disappoint.
How do I reinstall Safari on Mac?
You can install the new Safari app from Apple App Store on your Mac computer. Search for the Safari app in the App Store to begin the installation.
How do I find Safari on my Mac?
If you are a first-time user, you can search for Safari using Spotlight Search (Cmd + Spacebar). You can also find the Safari app in the Applications folder within Finder.
How to update Safari on Mac?
You can visit the App Store on Mac and switch to the Updates tab to find any new Safari updates. Select the Safari app and click on the Update button.
Alternatively, visit the Software Updates settings page under Apple Preferences to download and install the latest Safari version.
What is the latest version of Safari for Mac?
The Safari browser is updated yearly with a System software update announced at Apple Events.
In Jan CY23, the latest version of Safari for Mac was 16.2. You can check your version under Safari > About Safari menu.
Lastly, if you've any thoughts or feedback on Apple Safari for Mac: Overview and Features, then feel free to drop in below comment box. You can also report the outdated information.