Android is one of the most valuable and easy choices of UI on a mobile phone. That's why more and more people are moving towards Android daily.
With Android devices, the first thing that comes into consideration is finding the perfect browser for your smartphone or tablet. The browser that fits all your needs and is easy to use is quite difficult to find. Finding the perfect browser to cater to all your needs with everything going online becomes essential.
However, we are here to help you with the best Android phone browser. Here, we have created a list of the best browsers for Android devices.
Google Chrome
Google Chrome is the most widely used browser around the world. It is power-packed with unique features that will meet all your expectations.
Google Chrome has gained popularity quickly and is pre-installed on Android phones.
Some of Google Chrome's prominent features are:
Although Chrome has many features, it still gives Google the right to track your web activity, hindering your privacy. Moreover, Google extensions do not work on Android devices.
Mozilla Firefox
If you work on Firefox on your desktop, you should choose Firefox for your Android device. Firefox is probably the best alternative to Google Chrome right now.
With its customization options and tremendous privacy, Firefox shines brighter than all its contemporaries.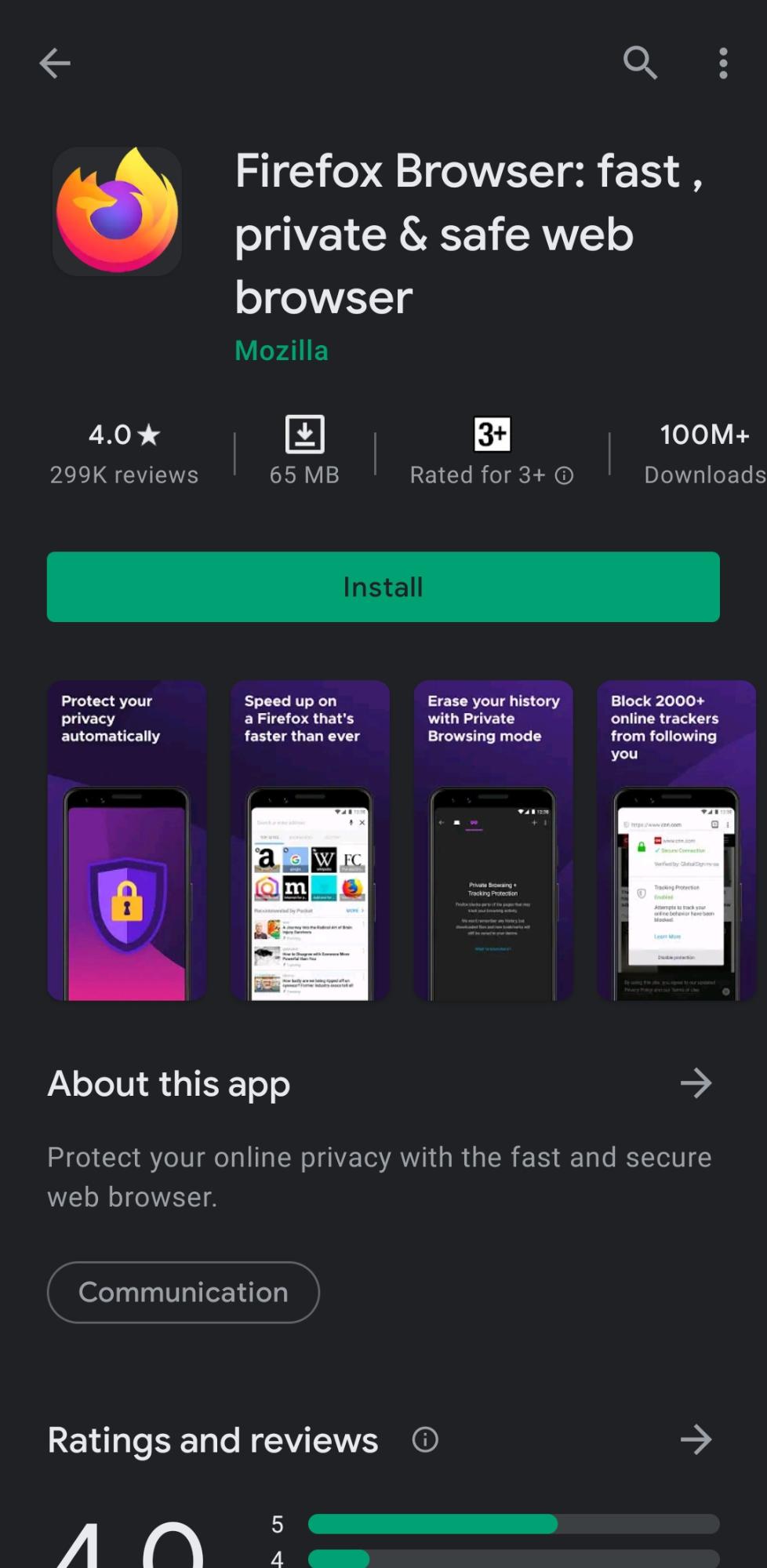 Let's have a look at some of Firefox Browser features:
It offers easy to sync with the Firefox desktop.
You can customize the look and feel of the browser per your requirements.
It also offers extension support.
It has enhanced its security with the new updates.
However, it requires extensive support for features readily available on other devices. Even the private browsing mode has some complications.
Samsung Internet Browser
Although the Samsung browser is exclusively built for Samsung users and set as their default browser, anyone who has Android can use it freely. It is the best browser to protect your privacy.
Samsung browser is one of the best Android browsers of all time.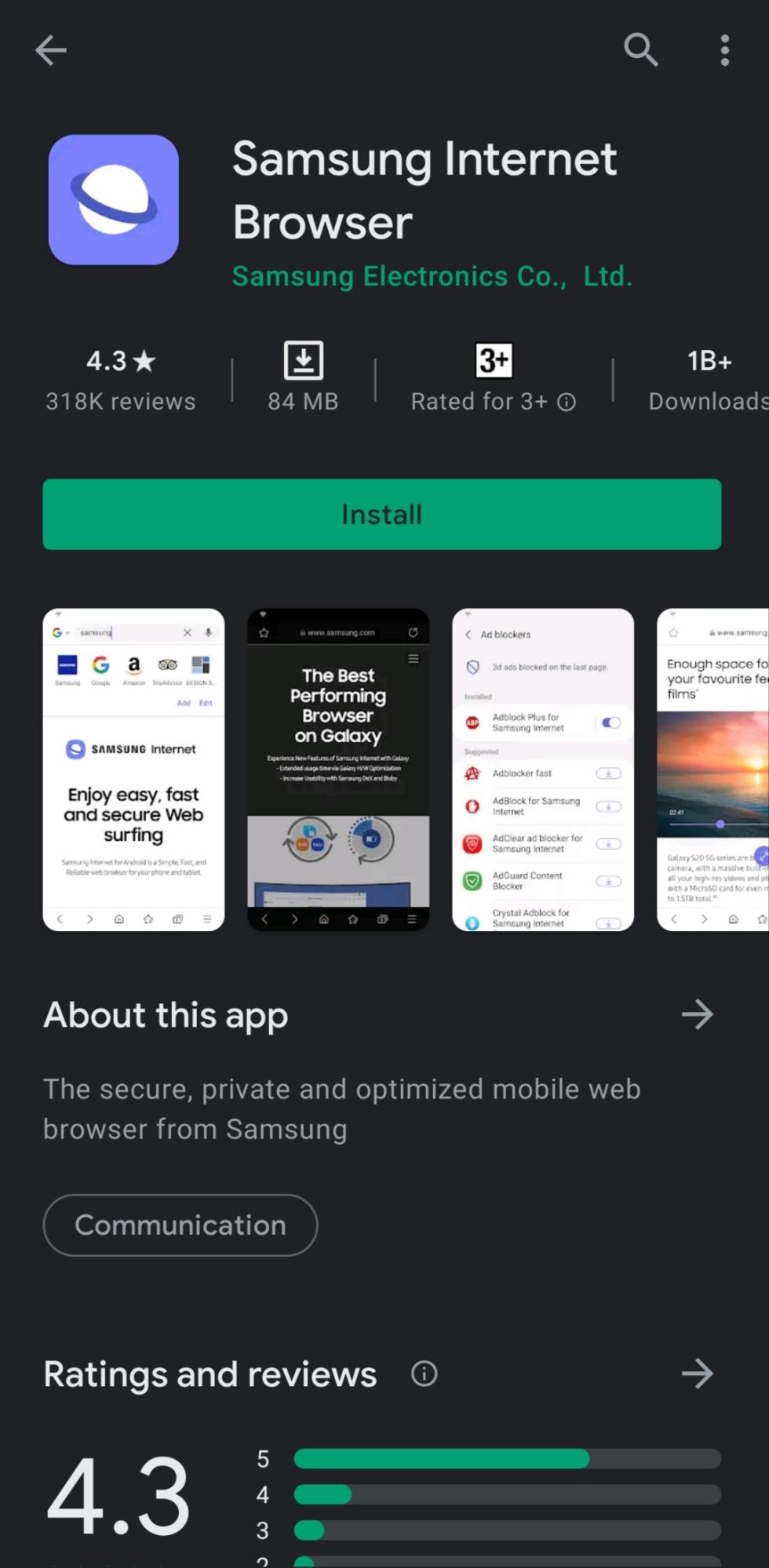 Let's have a look at some of the Samsung Internet Browser's outstanding features:
However, it may still have some bugs that need fixing. The browser is slow compared to others on the list.
Opera Browser
Opera should be your choice if you are looking for a browser that helps you save data extensively. It has a robust data saver that lets you save a lot of monthly data.
Opera may lack slight features than Chrome, but it competes with Chrome and Firefox.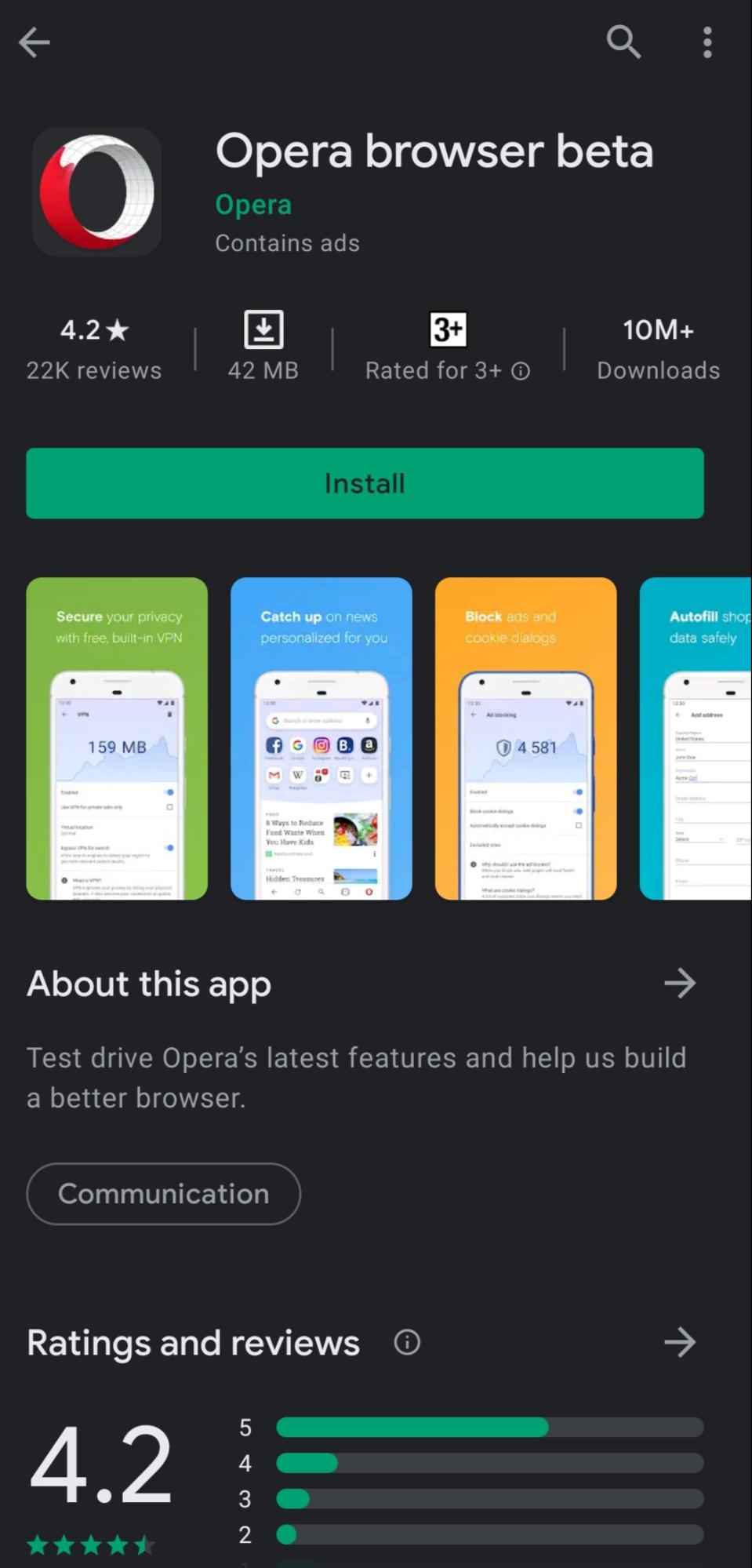 To name a few of Opera Browser's unique features:
It has a robust data saver mode.
It has an in-built VPN-like feature.
It blocks ads and prevents you from distractions.
It offers a few variants of its browser as per your preferences.
It still has its set of demerits. Like, the browser's speed may sometimes lag and feel confusing.
DuckDuckGo Privacy Browser
If you value your privacy more than anything else, then DuckDuckGo should be your go-to browser. It is power-packed with all the features you need to protect your privacy.
Though it doesn't have the glitz and glamour of the other Android browsers, it is still a good choice.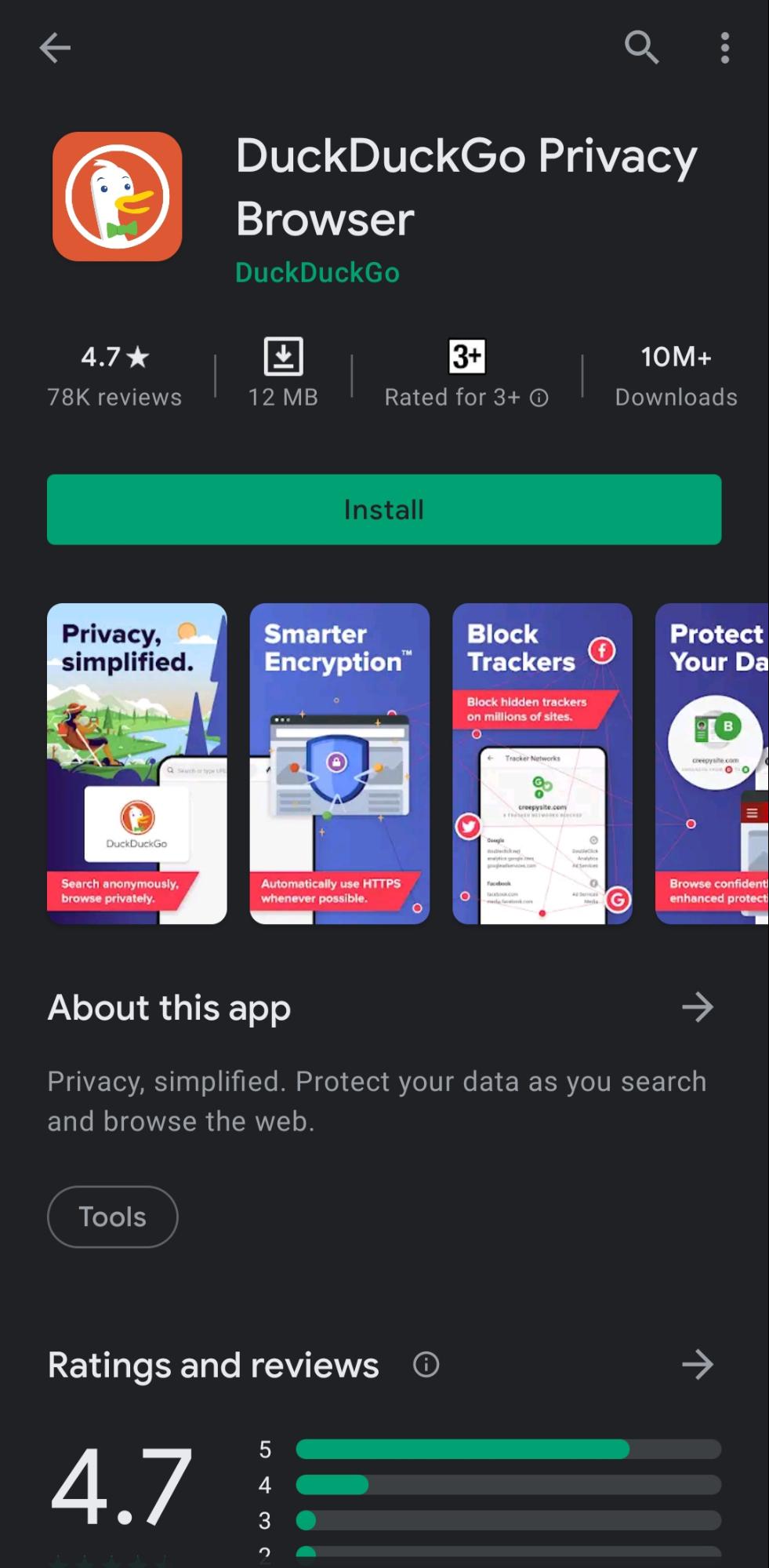 Some of the DuckDuckGo Privacy Browser's essential features are:
The interface is simple and easy to use.
You have the freedom of being away from Google.
It has an assertive privacy policy.
You can clear the data with a single tap.
However, it still has some issues. It does not have advanced settings and needs some bug fixes.
Microsoft Edge
If you are a fan of Edge's desktop version, you should try this one out. Although it is not as good as its desktop version, it's still a great choice.
It can easily sync all your data via your Microsoft account.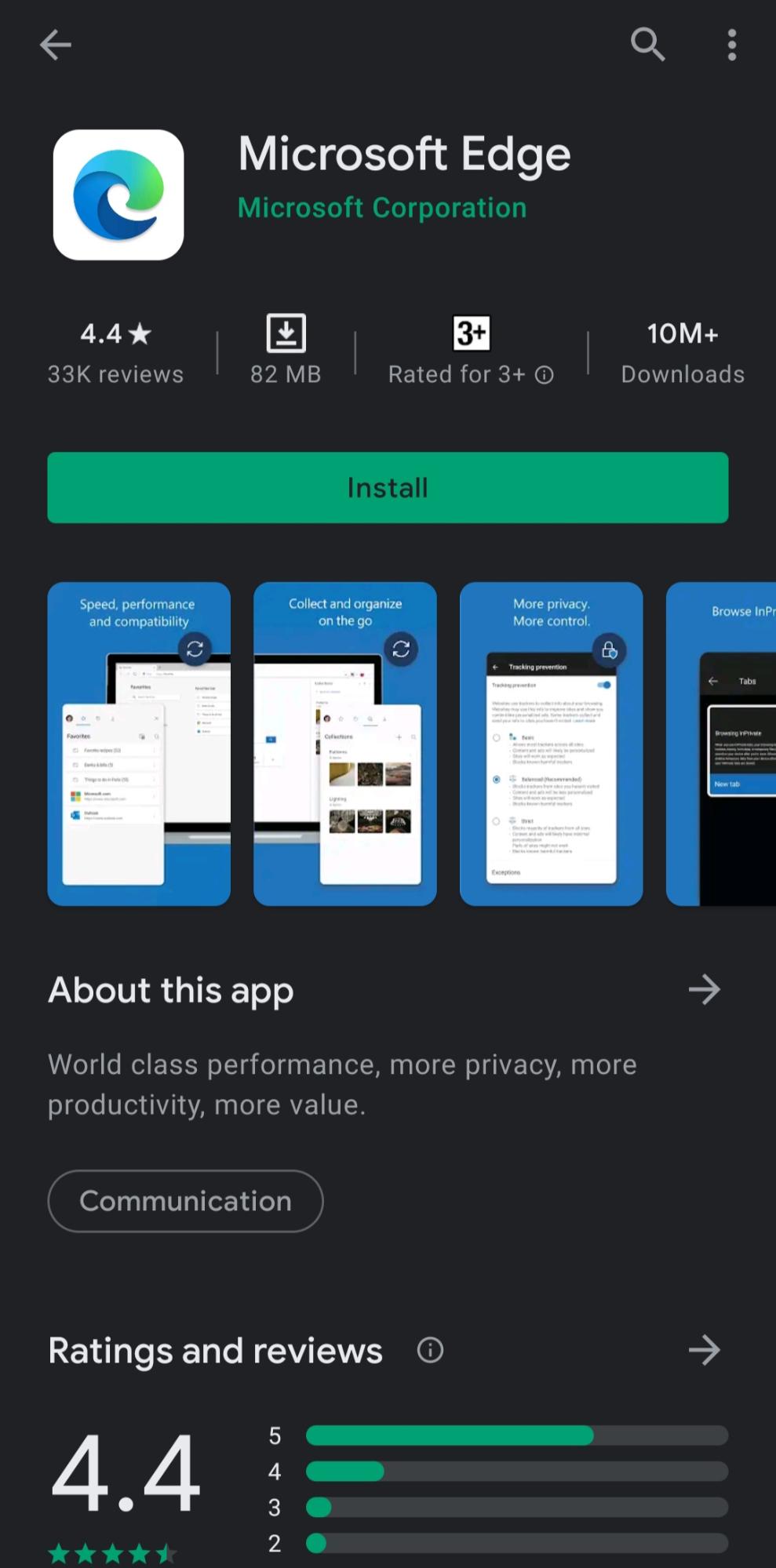 Some of the Microsoft Edge Browser features that stand out are:
However, it still has some problems. For instance, it lacks extension support and loads slower than others.
Browser 4G
If you are looking for a browser that ensures the fast loading of the web page, Browser 4G should be your go-to option. It loads a heavy website fast as well.
Unlike all its contemporaries that are big names in the market, this one is truly underrated.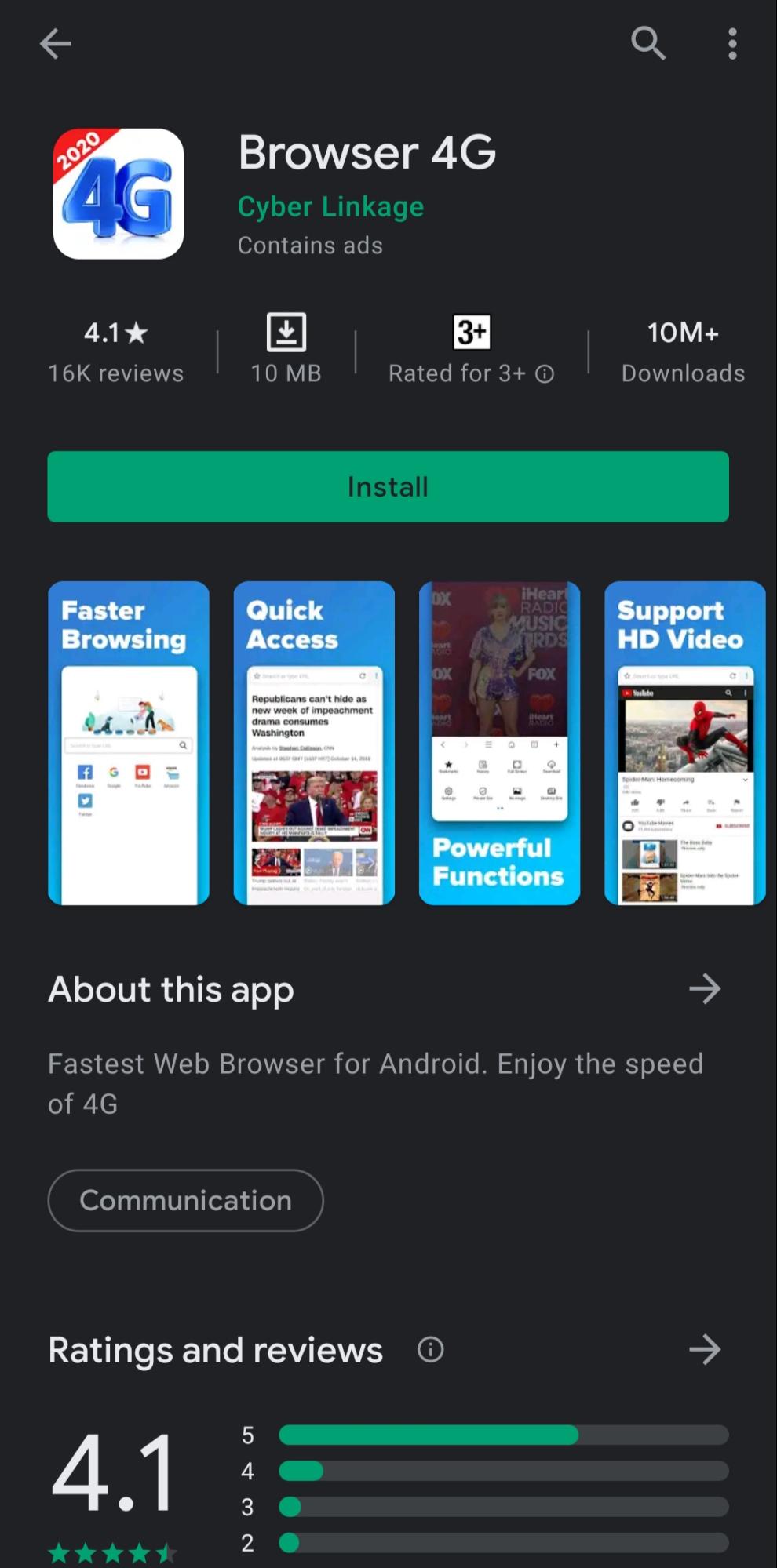 Some of Browser 4G's remarkable features are:
The layout employed by the browser is straightforward to use.
You have access to more than 44 languages.
It ensures your privacy and security.
All your favorite websites are just a tap away.
You can easily browse the websites on full screen.
However, it still has some bugs that need fixing. Often, the websites may load slower than expected.
Smart Search and Web Browser
Intelligent Search should be your choice if you want a fresh, new, and different change from the other browsers. It is one of the most convenient browsers in the smartphone browser and comparatively light and fast.
It lets you search from various search engines, including Google, Bing, Yahoo, etc.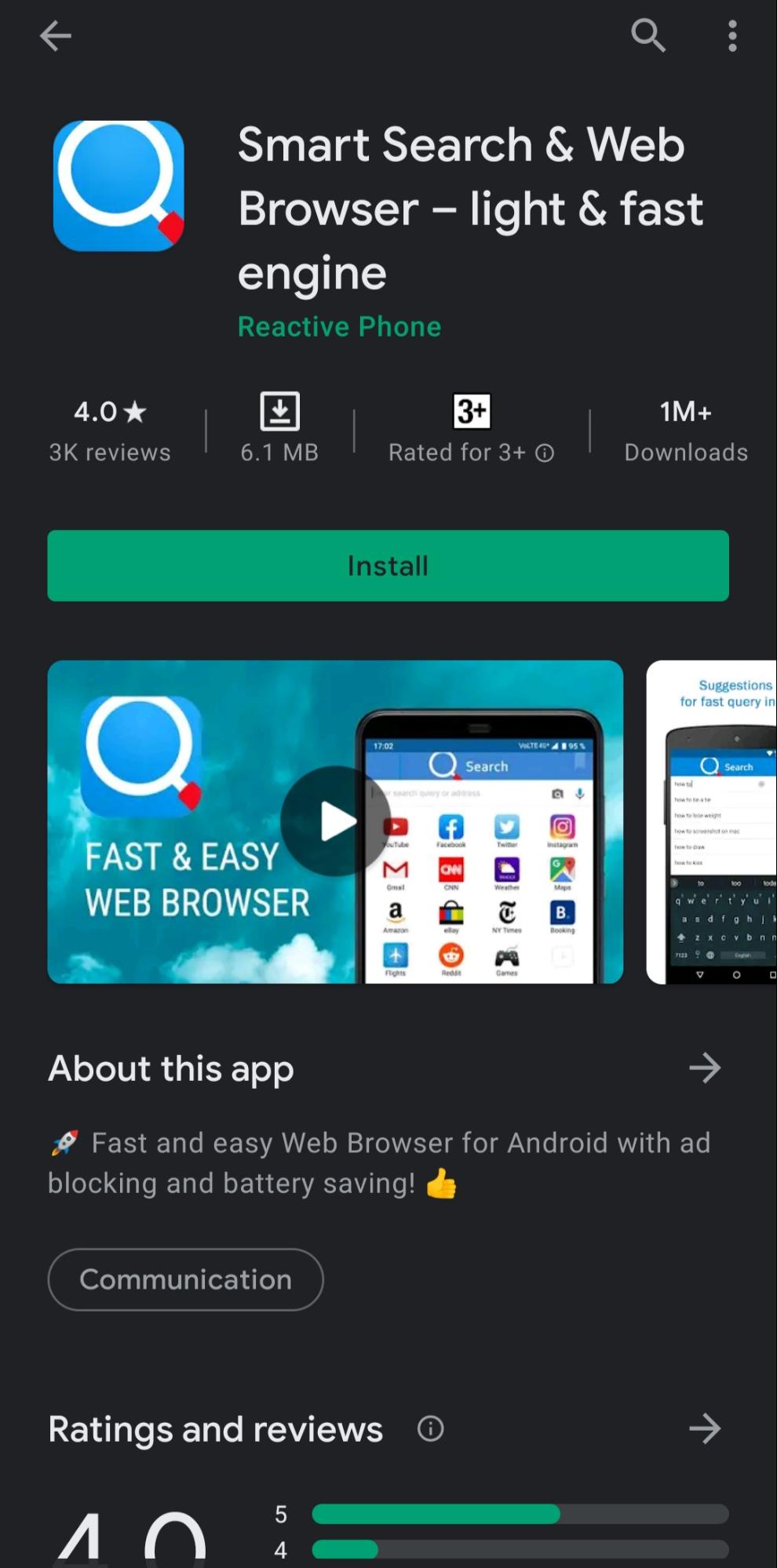 Some of Smart Search & Web Browser's prime features are:
You can search for anything on a search engine of your choice.
It has an in-built QR scanner.
We can access the bookmarks with the utmost ease.
It has a reading mode for reading without any disturbances.
You can also control the volume and brightness of the full-screen video.
Although it has such great features, it can lag sometimes. The layout may disappear when there's heavy loading.
Bottom Line
Finding the perfect browser that suits your needs has always been challenging. However, we all know that a web browser is the backbone of every Android or iOS device. Although the options for iOS are limited, Android has numerous options in web browsers. That's where we come in to help you!
As you might have read earlier, we have tried to mention the best web browsers available on the Android ecosystem. You can choose wisely among them and look for the features you desire. We understand it isn't easy, but you will know the best for yourself.
FAQs
Which is the fastest web browser for Android?
The Google Chrome browser, which is pre-installed on Android phones, is the fastest. Besides Chrome, Mozilla Firefox, Opera, and Microsoft Edge are excellent fast alternatives.
Which is the best Android browser?
Google Chrome is the best and most easy-to-use Android browser, which syncs with Android Apps and Google accounts to provide a great experience.
Which is the safest and most secure browser for Android?
In terms of web security, Google Chrome is a great choice. However, Mozilla Firefox and Opera browser is the right choice for privacy and data safety.
Which is the best Android browser for downloading?
Opera browser is the best Android browser for fast downloading files from the internet. It also has a download manager to manage the queue.
Which is the best browser for privacy?
Mozilla Firefox and Opera browser are a few of the best browsers for data privacy. They completely block tracking scripts and also have a built-in content blocker. Opera has a built-in VPN service.
Are there any specialized browsers for Android tablets with better search engine options?
Chrome, Firefox, and Opera have tablet versions that provide a seamless browsing experience. You can use the default search engine, Google, that comes with these browsers or set your preferred search engine.
Is there a browser that stands out as the best internet search engine for Android users?
With its strong tie-in to the Google search engine, Google Chrome is widely regarded as an excellent browser for efficient internet searches on Android devices. However, Firefox and Opera also provide solid search engine options if you prefer alternatives.
Lastly, if you've any thoughts or feedback on 7+ Best Browsers for Android OS, then feel free to drop in below comment box. You can also report the outdated information.