Quite a few notable names could pop up in your mind regarding the browser domain. Google Chrome, Microsoft Edge, Apple Safari, and many other Chromium-based browsers enjoy a decent market share.
Along the same lines, Opera browser and Mozilla Firefox have also carved out a niche segment of a loyal fanbase. Being the earliest entries in the browser segment, they have usually been a trustworthy name to fall upon. While Opera could take pride in its plethora of customization, Mozilla is well known for its privacy-centric approach.
And if the question to choose between Firefox vs. Opera was also bugging you, then this comparison tutorial will settle this debate for good. Here we will weigh all the essential features both browsers behold and then inform you which outweighs the other and why.
So without further ado, let's get started —
Block Trackers
Trackers constantly monitor your online browsing activity when surfing the world wide web. While the benefit for the same is documented to help the browser send curated content to the user, there's much more to that since they possess a significant security risk.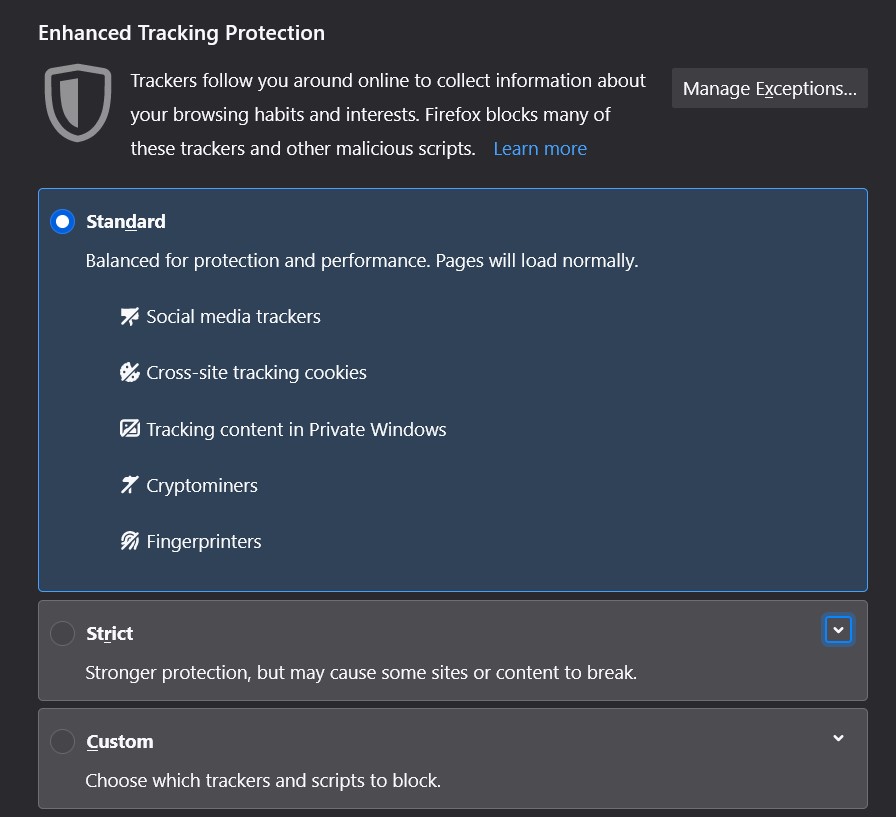 In this regard, Opera seems to have quite a decent job. They have blocked all the third-party tracking cookies by default, so you have one less thing to worry about. Not only that, but they have also incorporated tracker-blockers that are known to block all the crypto-mining scripts, which is something that not many other browsers could claim.
However, Mozilla has taken this even a step ahead. Rather than directly blocking all the trackers, it has segregated its tracker-blocking mechanism into Standard, Strict, and Custom segments. Apart from that, it also blocks all the social media trackers, which has become the need of the hour.
So while both browsers seem to have given attention to the tracker blocking, Firefox takes the upper hand, mainly because it gives users more granular controls over this functionality.
Ad Blockers
The sites that tend to adopt the practice of sending intrusive and disruptive ads are always on the rise. All this tends to disrupt the standard workflow of the users apart from breaking down the UX/UI element. This is where the need for an ad-blocker arises.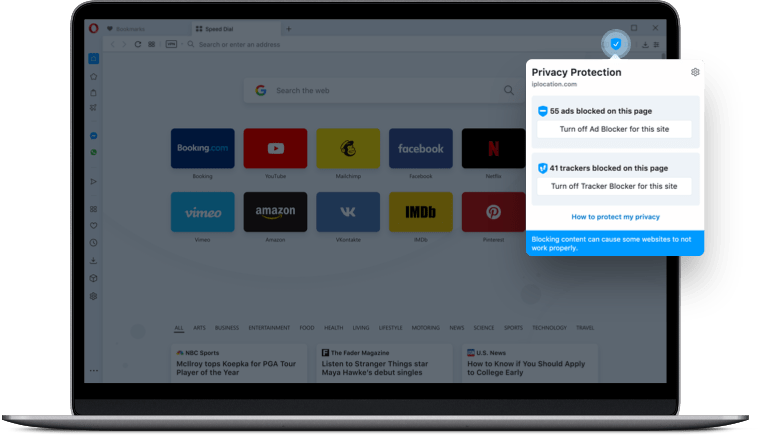 Keeping a note of the same, Opera comes equipped with a built-in ad blocker. And it performs decently well. Not only can it stop all the different ad layouts, but it also allows you to create your own rules. For example, you may add your preferred sites to the allowlist, so the latter could still display ads and earn their fair share of revenues.
However, there's no such thing as an ad-blocker regarding Mozilla's offering. So there are two different approaches that you could opt for. These include installing third-party add-ons or going for the Strict level of tracking block, blocking most intrusive ads.
A native ad blocker is always a good option rather than depending on an add-on or an indirect approach of blocking trackers to stop the ads. So Opera manages to outdo Firefox in this domain.
VPN Support
VPN provides a safe and encrypted passage for data transfer from the source to the destination. Apart from that, it also allows you to access geo-restricted content with ease.
In this regard, Opera has again taken a similar route and has built in a VPN tool. With just a single click, you could enable it and browse via the location of your choice. Likewise, it also displays some additional information sets, such as the total data exchanged and its date and time. You could even use this VPN in Private Browsing mode.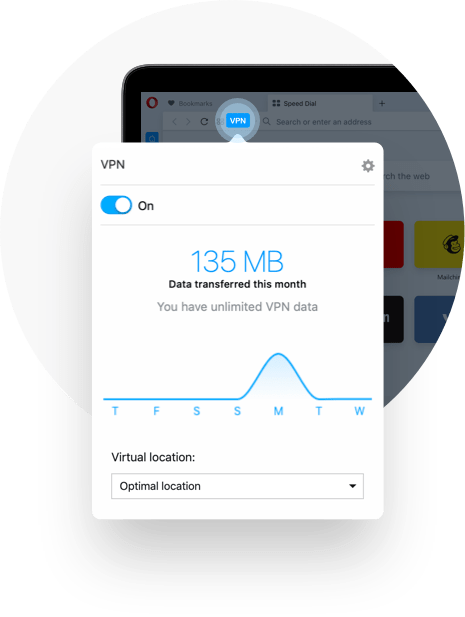 If we focus on Firefox, there's no built-in Virtual Private Network. As a result, you would again have to be on the lookout for a decent VPN app or extension.
While Opera's VPN is still far from a finished product, its presence in its ecosystem by default makes the job easier for the end-user. As a result, it takes the upper hand over Firefox in the battle of VPNs!
Cross-Device Support
Having cross-device support has now become a necessity rather than a luxury. Syncing all your data and allowing you to access your contents from all the linked devices streamlines all our workflow data.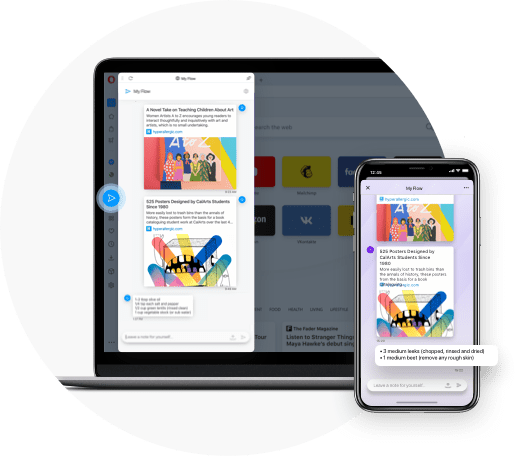 Once you sign in with your Opera account, your bookmarks, history passwords, and saved data are easily accessible across all the linked devices. Then its My Flow features prove to be the icing on the cake. You could easily share different file types without logging into your account, including images, videos, links, and notes.
Firefox also allows you to sync browser data across different devices. Sign in via your account, and then you can access bookmarks, settings, data, and opened tabs between all these devices.
While both browsers have a decent cross-device support system, Opera's My Flow feature easily edges out its competitor.
Utility Tools
Nowadays, every browser comes preloaded with some handy utility tools. They help the end-users and help the browser create its unique identity.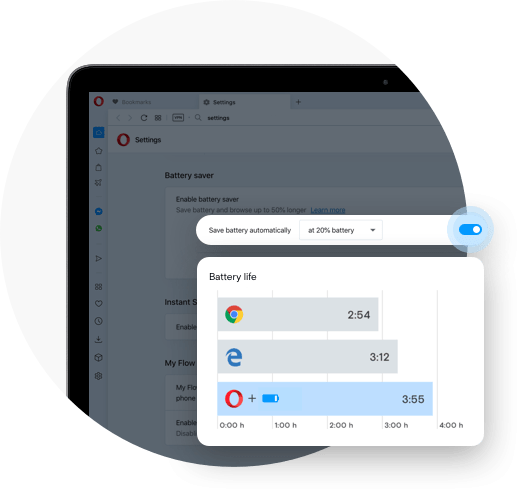 In this regard, Opera has baked in quite a lot of add-ons. To begin with, you could easily take screenshots on the go, use Spell Checking to check for spelling and grammatical mistakes, enable Reader Mode for a distraction-free environment, or even give a shot at its Unit Converters. Likewise, it also comes with a built-in CryptoCurrency Wallet.
The Mozilla Firefox browser also presents Spell Check, Reader Mode, and Screenshot Editor. Furthermore, it has also added a Bookmark Manager to handle all your bookmarks across the synced devices effectively. Moreover, using its Picture in Picture Mode, you could watch your preferred videos in a small overlay window that could be resized and dragged to any corner of your screen.
Compared to Firefox, Opera doesn't have a Text Speech or AutoPlay Blocking feature. On the flip side, Firefox misses out on Battery Saver and Workspaces that Opera could brag about. In this section, handling a winner's medal ultimately boils down to individual preferences.
Customizations
Many users prefer to change the look and feel of the stock browsing experience. There's much to try, from tweaking the user interface to modifying individual browser components.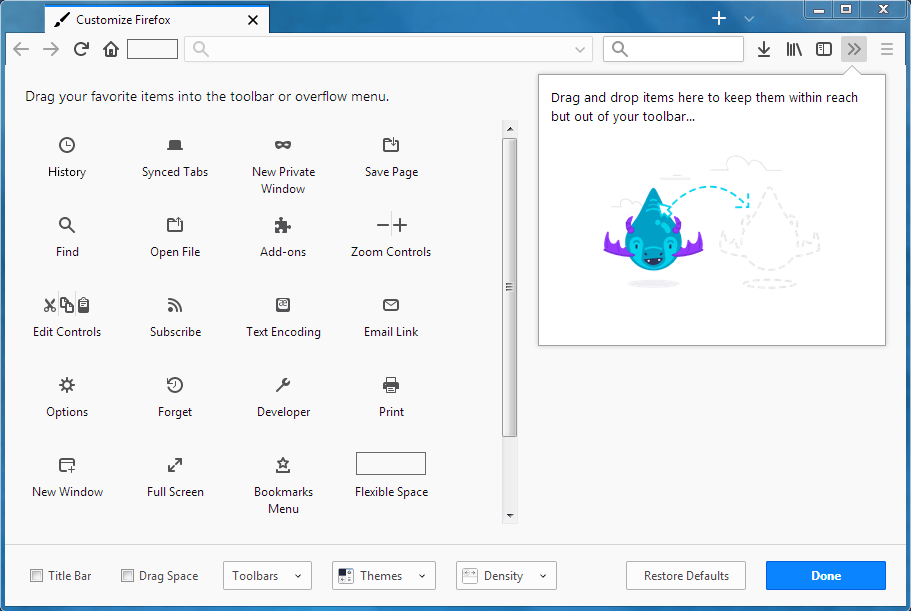 Opera has always been known to be among the most customizable browsers, and there are quite a few reasons to justify this claim. From changing the themes to switching over different wallpaper or even accessing your social media and instant messaging handles, all this is just a click away. Likewise, you could customize the news-reader with the topic of your interest.
Firefox also displays news feeds and articles directly from Pockets. Likewise, it allows you to tweak the Title bar, Menu bar, and Bookmarks toolbar. Apart from that, you could also download additional themes from the store.
Again, it's hard to tag a clear-cut winner in this domain. While Opera allows you to customize the entire interface, Firefox focuses on tweaking individual browser components.
Extensions
Extensions are third-party add-ons that tend to add more features to the browser. While some focus on utility, others promise a much safer browsing experience, and some are a boon for the official workspaces.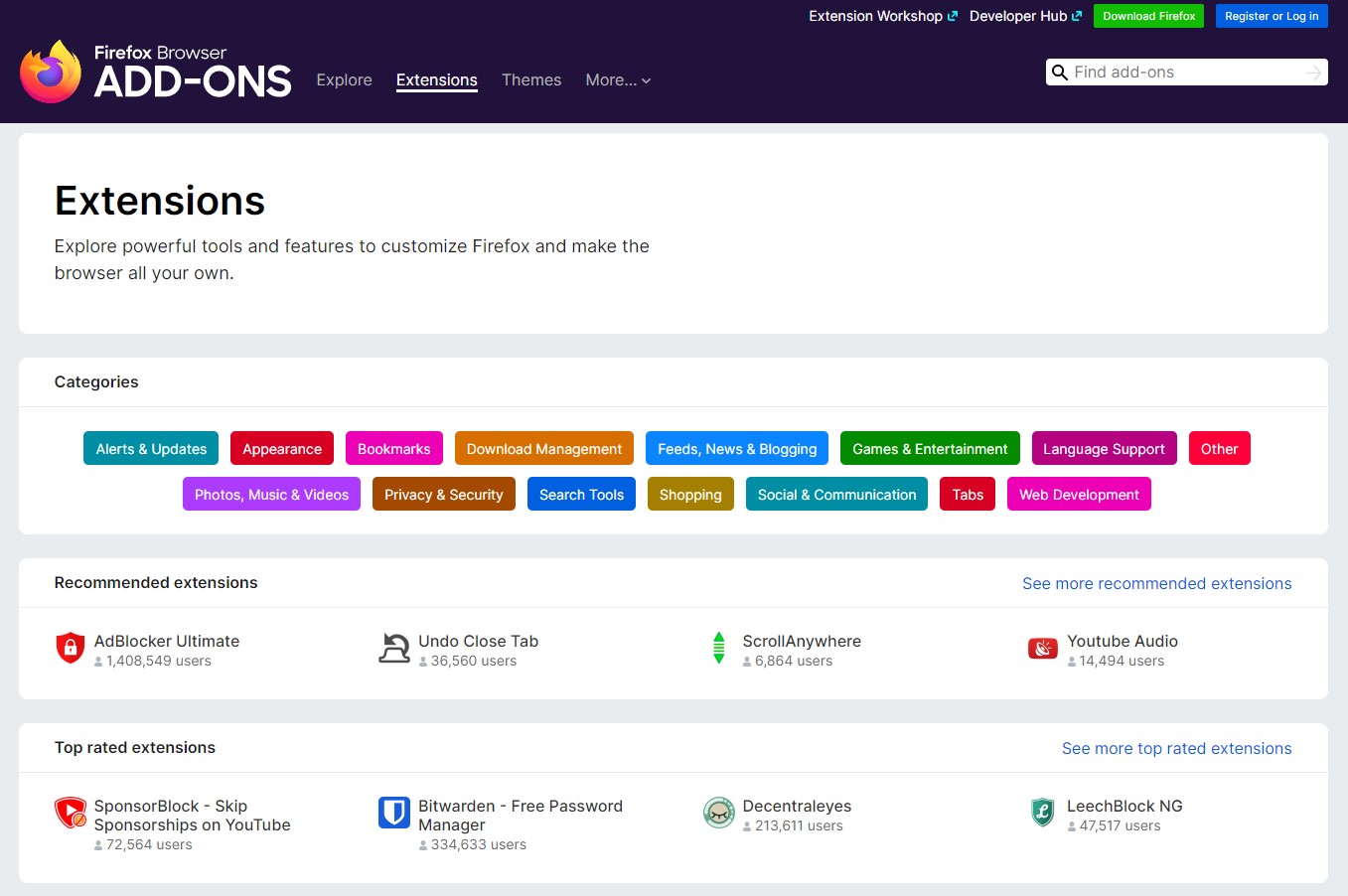 Opera boasts of a plentitude of extensions spread across varied domains. There's much to look forward to, from Adblockers to password managers to social media and tabs management. While the UI of its extension store looks a tad outdated, that shouldn't cause any significant issues as its categories and filer tabs will make it relatively easy to search for the extension of your choice.
Since Firefox doesn't have a built-in adblocker or VPN, the need for an extension becomes more critical. And its user-friendly extension store wouldn't leave you disappointed. It also has a decent collection of third-party add-ons up its arsenal that is enough to checkmark the requirements for the end-user more often than not.
Since Opera is a Chromium browser, you could quickly try all Chrome extensions. Hence, it automatically translates to a more decadent collection than Firefox, which still has some catching up.
Speed and Performance
While this isn't a quantifiable term we could explain in plain numbers, speed is among the most critical factors in which a user generally rests their overall decision.
We decided to keep this determinant at the end because, by this point, you would have a decent idea regarding the plethora of features Opera beholds. And this ultimately leads to its downfall. Since most of its functionalities are directly baked into the browser, its associated processes make it a tad slower in everyday usage.
On the other hand, although not bereft of features, Firefox has endured high and extensive resource usage. And the fact that it lacks a native ad blocker and VPN seems to be a blessing in disguise for them, at least in this segment.
So the fact that Opera is based on the clunky Chromium with many built-in options tends to make it a bit slower than Firefox, which impressively manages the browser's resource consumption.
Bottom Line
With this, we end this extensive and detailed comparison test between two of the most well-known players in the browser industry.
While Opera outdoes its competitor with customizations and features, Mozilla comes on top in the Privacy and Speed segment.
Apart from that, both these browsers behold some nifty and useful features that make them standout players. Whereas Firefox allows you to determine how stringent privacy you prefer, Opera could call its My Flow, and Crypto-Currency features its USP.
FAQs
Does Opera use less RAM than Firefox?
Opera is a highly secured browser with low memory and RAM consumption compared to Firefox or Google Chrome browsers.
Which is better: Opera vs. Firefox for Security?
Both Opera and Firefox fundamentally developed keeping privacy in mind. However, when it comes to features supporting security. Opera has features like built-in VPN service, anonymous sync, etc., which enables better security without compromising personal data.
Is Firefox better than Opera?
Firefox is a developer-friendly + privacy browser, whereas Opera is primarily a privacy browser with better usability and rich feature. Keeping this in mind, both are better in their fields.
Which Browser Offers Better Speed: Opera or Firefox?
Opera and Firefox have made significant strides in optimizing their speed. While Opera's Turbo mode can enhance browsing speed on slower connections, Firefox's Quantum engine is designed to provide a snappy and efficient browsing experience.
Opera Browser vs. Firefox: A Feature Comparison
Opera and Firefox have their strengths. Opera's integrated tools like snapshot, sidebar, and Flow for seamless device syncing stand out, while Firefox's emphasis on privacy and extensive library of extensions are attractive to users valuing customization.
What Sets Opera Apart from Firefox?
Opera and Firefox are both popular browsers, but they have distinct characteristics. Opera boasts a built-in VPN, ad blocker, and free access to various web apps, which can appeal to users seeking an all-in-one browsing experience.
Lastly, if you've any thoughts or feedback on Opera Browser vs. Mozilla Firefox: Which is the Better Choice?, then feel free to drop in below comment box. You can also report the outdated information.