Microsoft Internet Explorer was Windows' browser as default. However, it didn't do any good to its fate. There was always a saying that the best use of Internet Explorer was to download Google Chrome. No matter how sarcastic it may sound, it was the harsh truth.
However, it seems that all these are now a thing of the past. Beginning with Windows 10, Microsoft introduced a new browser to the masses. Dubbed Microsoft Edge, Microsoft seems to have rekindled the browser war. But what are the reasons for its change of fate? Well, plenty of them leads to its spike in usage.
The new Microsoft Edge browser is based on the Chromium source code. To the unawares, Microsoft Internet Explorer used to work on an old JavaScript engine; however, in 2018, they made this big jump over to the Chromium source code, and then there was no looking back.
The Chromium source code will let you enjoy all the Chrome browser's goodies. So the browser, apart from its own set of features, incorporates all the useful Chrome features. On top of that, Chromium is an open-source code project, meaning its entire underlying code is available for everyone to see and act upon.
These are just some valuable features why this is becoming everyone's favorite, especially among Windows PC users. Let's check out some other features that have made it a big hit among users!
Switching over from one browser to another is a time-consuming task. All the files, data, and bookmarks have to be re-added. You can't simply sync these settings with your account ID and return all the settings. This is possible for the same browser across different platforms but not across cross-browsers.
Until now, Microsoft Edge allows you to import data from three of the most used browsers, i.e., Chrome, Firefox, and Safari. The first time you install and run it, it will give you the import dialog box.
Select your previous default browser and the data type that must be imported. However, if you wish to skip this and try it at a later stage initially, the feature can be accessed anytime from Settings > Profiles > Import Data.
Strengthening online privacy is the need of the hour. With cases of data breaches at an all-time, users look for methods to get a safe and secure browsing experience. The tracking prevention feature of Microsoft Edge will go a great length in this aspect. All this is possible due to using Microsoft Edge chromium source code.
Trackers, as the name suggests, track your online activities and collect information about your browsing behavior. Even worse, some trackers can collect and send your information even to sites you haven't visited.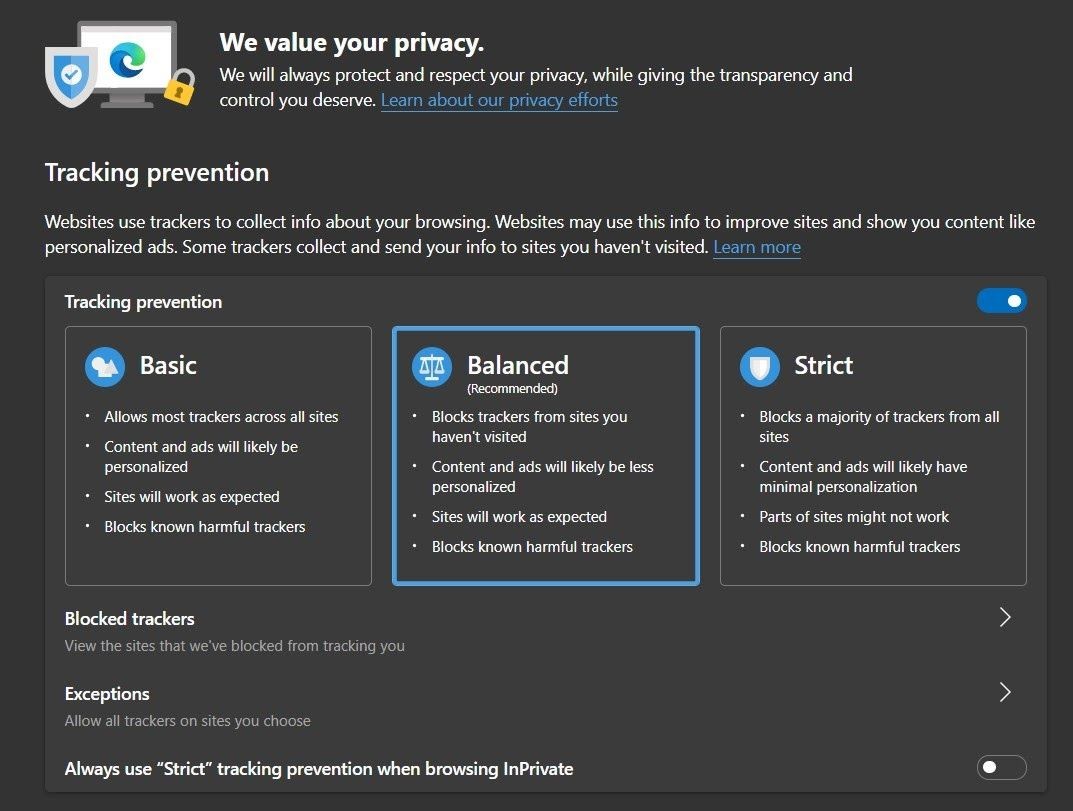 As explained by various browsers, the reason for all these tracking activities is that they wish to know your interests and liking and will send you personalized and curated content.
While all these sound good on paper, some security risks are involved. Because of this, people wish to block these trackers from keeping a check on their daily activities.
If you wish to do so as well, then Microsoft provides three different levels of tracking protection:
Basic: It offers the minimum level of protection, only blocking some of the known harmful trackers, rest all the trackers will work across all the sites. This will give you more personalized and curated content and affect your privacy.
Balanced: This is the one set by default and what Microsoft also recommends. It maintains a decent level of tracking blocking and proper functioning of the websites. If you block all the trackers, some essential scripts needed to run the websites also get blocked. As a result, websites won't be able to function correctly. This is why Microsoft suggests using this mode, and it manages to maintain an equilibrium between both. In short, it blocks trackers from sites that you haven't yet visited and other harmful trackers. However, you are likely to have a little less personalized content and ad, but I guess that will be a handy trade-off.
Strict: The highest level of protection; Strict all the trackers, whether harmful or not. Since these trackers won't send information about your online activities, third-party services won't know much about your likes and dislikes. Hence, you will be getting ads and content with minimal personalization. While this is fine with most of you, the real problem arises when some sites begin to behave in a rather unexpected manner. In Strict mode, sites cannot access some of the needed components like Javascript and could throw an error. If that happens, consider switching back to the Balanced level.
So these were the different levels of tracking protection the browser offers. You could also create exceptions and add some sites to the whitelist. The option to do so is present just beneath the Strict mode.
Reading content on any website is becoming a challenging task as of late. With unnecessary content creeping up on every corner, unsuitable ad placements, and notifications covering up half of the screen, sometimes it's better to let go of that article.
Well, this browser has it under control as well. Edge offers a Reading Mode that minimizes all distractions and gives you an immersive reading experience.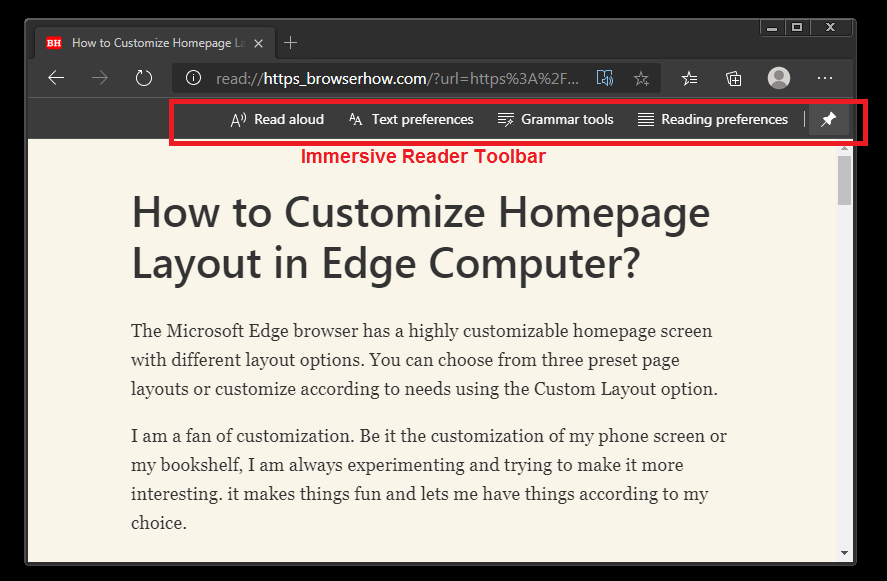 A text reference box lets you set the desired font text and style and adjust the page's colors. With the feature that lets you change the font style for the reading view in Chromium, the reading experience becomes far better.
Take it further and let the browser read the content for you. Click on the three horizontal dots and select the Read Aloud option. You could also use the Ctrl+Shift+U shortcut key combinations to use it.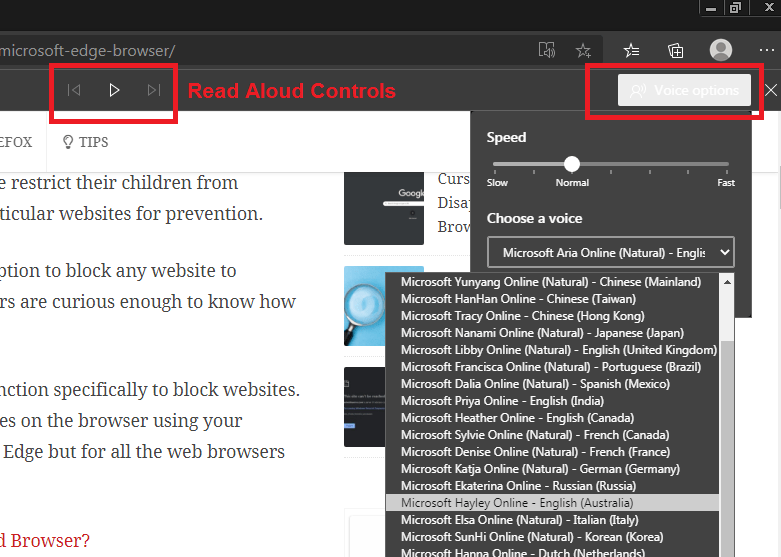 Everyone has a habit of keeping a lot of tabs open. While it's excellent from the usability experience, sometimes it does lead to confusion. Fortunately, the browser had some impressive tab management tips lined up.
For example, you could close all the other tabs, close tabs to the right, mute all tabs, or even create duplicate tabs, saving you from copying and pasting the URL into a new tab.
Or you could even create a favorite and add all your tabs over there. This favorite collection could be on all your devices, giving you easy access to all such tabs.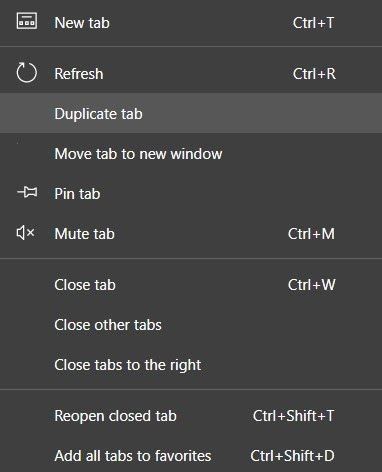 The best part? All the options are under a single roof; right-click on any of the opened tabs, and you'll get all the options above. All this is possible due to the Microsft Edge chromium source code.
If the bright lights protrude from your PC, causing unnecessary strain, you could easily switch to dark mode. While some other browsers allow dark mode via third-party extensions or experimental features (as in Chrome), Microsoft Edge has this feature baked into its browser.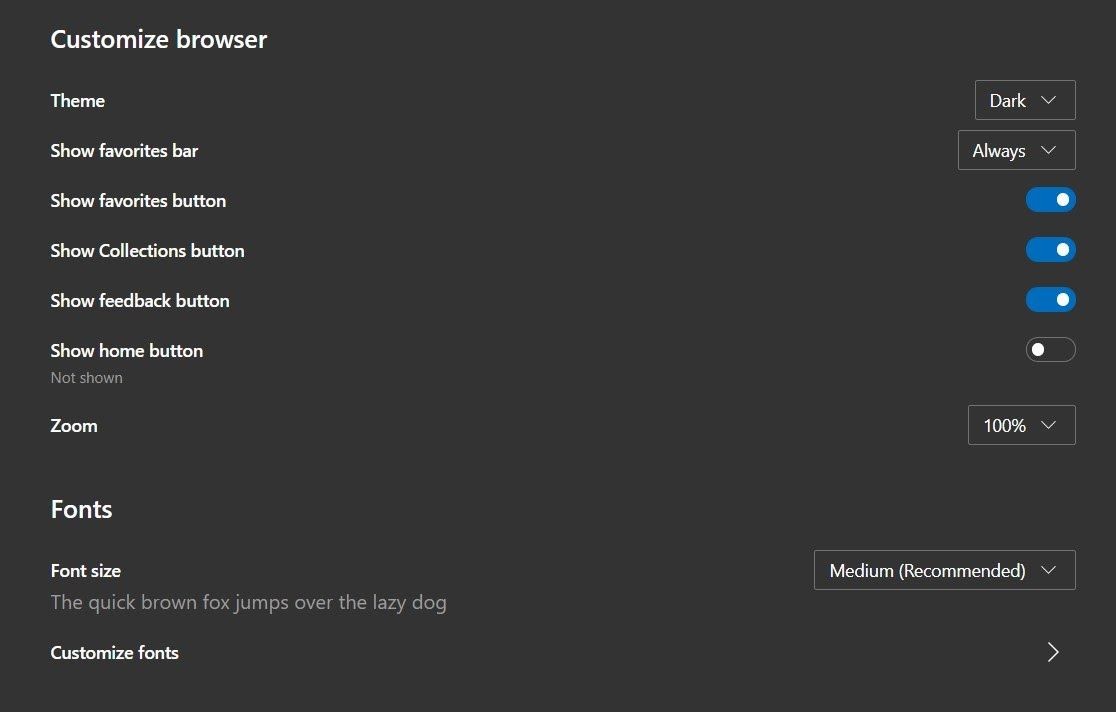 Other customization options include showing or hiding feedback, favorite collections, Show buttons, different font sizes, styles, etc. To try these changes, head to Settings and click on the Appearance tab from the left-hand side menu bar.
Microsoft Edge is available for Windows, iOS, and Android devices. Log in with a Microsoft account, and all the data, including favorites, passwords, bookmarks, history, etc., will be accessible across all devices.
Head to the Settings tab and click Phone and Other Devices. You can also find the QR code, scan it, and the browser will be downloaded on your device. Login with the same ID you used on your PC and use the sync functionality entirely. All due to Microsft Edge chromium source code.
This is one section where Edge beats the Chrome and Firefox browser. The integrated AI-virtual assistance makes our work a lot easier and minimizes manual typing efforts to a great extent. There shouldn't be any brownie points for guessing which virtual assistance the browser uses (try spelling Cortana).
In its stand-alone sense, Discover has some way to go before it matches up with Google Assistant, Siri, or even Alexa, for that matter; however, its integration into the Edge browser is an exciting addition.
Another pretty valuable addition to the browser due to Microsft Edge chromium source code is the Collection feature. You could create a collection of articles and websites that will remain on the right-hand side of the menu. You could also add a note to the Collection. Apart from that, importing to Excel and Word is also possible. So if you wish to create a new collection, click on the plus icon next to the address bar.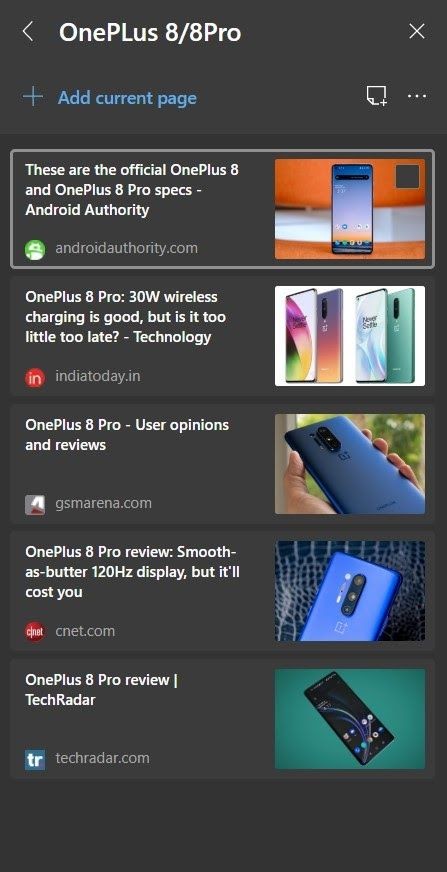 You could add the current page to this collection by clicking the Add Current Page option. There's no limitation as to how many items you could add to the collection or how many collections you could create in the first place.
Bottom Line
These are some pretty helpful features the browser has incorporated after the Microsft Edge chromium source code. Do note that there are three builds of the browser, apart from the Stable build: Beta, Dev, and Canary.
If you wish to try out new and cutting-edge features, you should look at these builds, wherein Beta gets updates every six weeks, Dev is updated weekly, whereas Canary is updated daily. However, Canary is the most unstable, followed by Dev and Beta.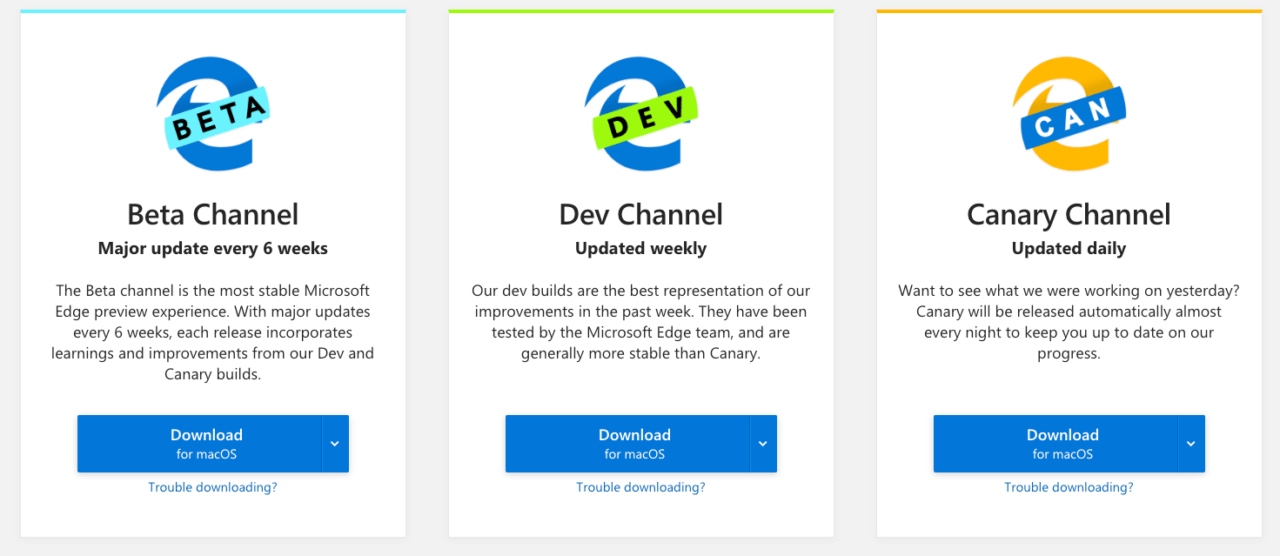 On that note, the best part about Microsoft Edge is that even after taking so much from Google Chrome, it still manages to throw in lag-free and stable performance. For example, Chrome is notorious in that lagging is bound to happen if you have opened around ten or more tabs. Furthermore, we all know how much of a memory hogger Chrome is.
However, Microsoft Edge doesn't suffer from these drawbacks. People were reluctant to try this browser because of the lack of extension support. However, with time, we have seen nearly all the extensions compatible with it.
So it is due to all these reasons that we see an unprecedented rise in the usage of this browser and are likely to see more people jump to this Chromium-based browser. After briefing my friend on Microsoft Edge's features, he was easily convinced to switch to this Microsft Edge chromium source code-based browser.
Which is your favorite and most minor feature of the Microsoft Edge Browser? Do you use Microsoft Edge Chromium at work?
FAQs
Is Edge better than Chrome?
Microsoft Edge and Google Chrome are built over the Chromium project. The significant difference is support for the browsers. Chrome is fully integrated and supported by Google, whereas Edge is developed and maintained by Microsoft.
If privacy is primary, then Edge is better than Chrome. The rest is the same between Chrome and Edge.
What is different between Microsoft Edge and Internet Explorer?
Microsoft Edge and Internet Explorer are web browsers Microsoft developed for Windows. However, Internet Explorer is the oldest browser built on Javascript Engine, whereas the Edge is upgraded with the latest and best technology stack built over the Chromium project. Edge is a cross-platform browser that supports almost every device and operating system.
Internet Explorer will be deprecated soon, and Microsoft Edge has added an IE Mode feature to support legacy web apps running on Internet Explorer.
Is Microsoft Edge being discontinued?
Between Internet Explorer and Microsoft Edge Chromium, Windows 10 was launched with Microsoft Edge (now Legacy) in 2015. But, the latest Edge Chromium will replace the Edge Legacy, and it's being discontinued.
The 20H1 Windows update has replaced the Legacy browser with the New Chromium-based Edge browser.
Lastly, if you've any thoughts or feedback on Microsoft Edge for Computer: Overview and Features, then feel free to drop in below comment box. You can also report the outdated information.